Resident Evil 2 (1998) - Resident Evil 2 - Marvin's Mod v.1.2 - Full game - Download
Download for free and play full version of Resident Evil 2 (1998) , a(n) adventure game, Resident Evil 2 - Marvin's Mod v.1.2 , for PCs and laptops with Windows systems. Free and legal download. Enjoy!
file typeFull version
file size356.1 MB
downloads4621
(last 7 days)53
last updateWednesday, March 10, 2021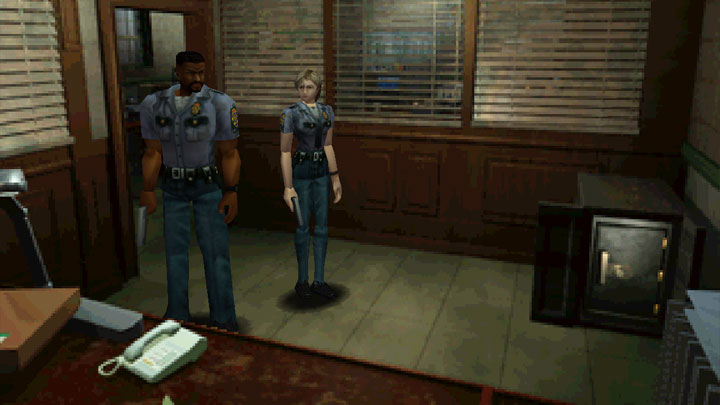 Resident Evil 2 - Marvin's Mod is a free stand alone fan game by AydanWatkins (be sure to also visit his personal website at Marvinsmod.x10host.com) It was build on the foundations of Resident Evil 2, but doesn't require you to own that game.
Description:
Resident Evil 2 - Marvin's Mod (Desperate Times) is a brand new game mod which tells the story of Marvin Branagh before his final moments in Resident Evil 2. This mod is a stand-alone release for PC which means you do not need to have the original game installed. Simply download and play.
• Play as Marvin Branagh - Experience Marvin's story as seen in Resident Evil Outbreak File #2.
• Dynamic Events - When you revisit places after completing certain tasks, the rooms will begin to change with different events/npc interactions as well as cutscenes playing.
• New Movies - While they have been taken from Resident Evil Outbreak, the movies in this mod have been edited and ill play back in new areas which were not features in the original game.
• Start In New Location - You now start the game in the east offices along with fellow survivors.
• Ai Partner - During certain parts of the game you will be joined by a fellow R.P.D officer who will assist you.
• New Story - While this mod is based on the events outlines in Resident Evil Outbreak, it contains many more new and unique story elements which have been added and created to help fill in some of the gaps and provide world building.
• New Ending Requirements - To complete this mod you have to complete certain objectives which will be given to you as you play through the game.
• New Items - In this mod you will collect a handful of new and unique items as you explore and try to escape the Raccoon City Police Station.
• New Routes - Explore the R.P.D following new routes through familiar locations.
• Boss Battles - There are boss battles in this mod in different locations to the original game.
• Changed Some Puzzle Solutions - Changed one or two puzzle solutions. More will be changed in future versions
• Increased Difficulty - Zombies & Monster will cause more damage when hitting or biting you.
• New 3D Models - There are new 3D models for characters.
• Custom SCD Scripts - This mod features custom SCD scripting to have features such as dynamic rooms, movie playback and much more!
• Custom DLL - This mod also has a custom .DLL which allows the game to be have many custom features and tweaks and this means that the original game.EXE does not need to be hex edited or changed in any way.
• Weapon Damage Changes - The weapons in this mod have had their damage values altered for different monsters. This means that some monsters will be stronger and some will be weaker.
• Much more...
Instructions:
It acts as regular standalone game. Just extract and archive and run game's .bat file.
Last update: Wednesday, March 10, 2021
Genre: Adventure
File size: 356.1 MB
Files for Resident Evil 2 (1998)