The Settlers (1993) - Freeserf v.0.3 - Game mod - Download
The file Freeserf v.0.3 is a modification for The Settlers (1993), a(n) strategy game. Download for free.
file typeGame mod
file size2.5 MB
downloads1142
(last 7 days)9
last updateSaturday, March 20, 2021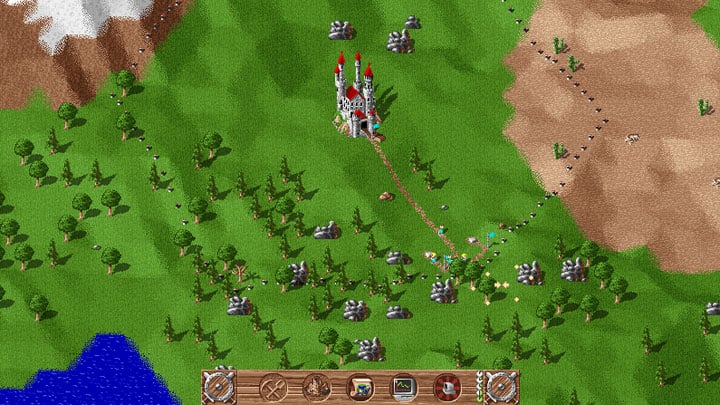 Freeserf is a mod for The Settlers (the first one, from 1993 roku), created by Jon Lund Steffensen.
Description:
A faithful clone of the brilliant simulation game The Settlers 1 aka Serf City. Requires game's files and adds compatibility with modern PCs, widescreen and high res options and numerous improvements.
Instructions:
The original data file from the PC version is required for the game to function. The name of the file is SPAE.PA, SPAD.PA, SPAF.PA, or SPAU.PA depending on the language. It is very important that you copy the data file after actually installing the original game, otherwise the data file will be compressed!. The data file should be around 1.3Mb in size.
Copy the data file(s) from the original game to the same directory as freeserf. Alternatively you can put the data file in ~/.local/share/freeserf. You may use data file(s) from DOS or Amiga game version.
DOS data file is called SPAE.PA, SPAD.PA, SPAF.PA or SPAU.PA, depending on the language of the game.
Amiga files gfxheader, gfxfast, gfxchip, gfxpics, sounds, music.
Keyboard gameplay controls:
1, 2, 3, 4, 5: Activate one of the five buttons in the panel.
b: Toggle overlay showing possibilities for constructions.
TAB/SHIFT-TAB: Open next notification message; or return from last message.
+/-: Increase/decrease game speed.
0: Reset game speed.
p: Pause game.
j: Switch player.
Other keyboard controls:
F10: Return to main menu to start a new game
s: Enable/disable sounds playback
m: Enable/disable music playback
CTRL+f: Switch fullscreen mode on/off.
CTRL+z: Save game in current directory.
[/]: Zoom -/+
Audio
To play back the sound track that is included in the original data files, SDL2_mixer has to be enabled at compile-time and a set of sound patches for SDL2_mixer has to be available at runtime. See the SDL2_mixer documentation for more information.
Save games
To load a save game file:
$ freeserf -l FILE
Freeserf will (try to) load save games from the original game, as well as saves from freeserf itself. The game is paused after loading so press p to start the game.
Run freeserf -h for more info on command line options.
Last update: Saturday, March 20, 2021
Genre: Strategy
File size: 2.5 MB