Pathfinder: Wrath of the Righteous - Portramatic - Portrait Generator and Library v.2021-11-11 - Game mod - Download
The file Portramatic - Portrait Generator and Library v.2021-11-11 is a modification for Pathfinder: Wrath of the Righteous, a(n) rpg game. Download for free.
file typeGame mod
file size82 MB
downloads136
(last 7 days)32
last updateSunday, November 28, 2021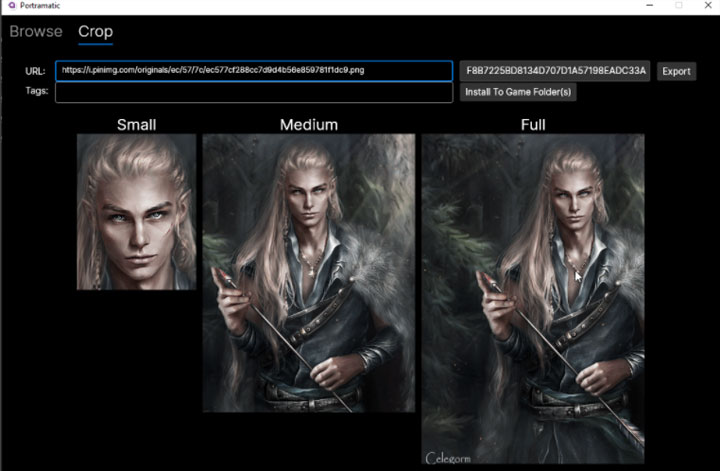 Portramatic - Portrait Generator and Library is a tool for Pathfinder: Wrath of The Righteous, created by Halgari
Description:
A Portrait generator, gallery (~4000 images), and installer of portraits for Owlcat Pathfinder Games
This is a tool for creating portraits for Owlcat Pathfinder games. The mechanics are simple, you paste in an URL, you can pan/zoom the images (while maintaining the proper sizing), and when you are done, the app will export the images for use in the game.
NOTE: this program uses URLs to download images from the internet. No reason to have 2GB of file data when the program can download just the files requested by the user.
Simply copy/paste in your image url, to load it into the app. Then use left-mouse and drag to move the image around, and the middle mouse wheel to zoom. Once you're satisfied with the
result, click "Install to Game Folder(s)" to add the portrait into your Pathfinder game, the image should be visible when you next load the game. Clicking "Export" will export the portraits to a "output" folder in the same location as the app.
Image urls that are used by users are submitted to a central repository where they are scanned for NSFW content and tagged. From there they are often added to the gallery for future use by other users.
Note: we do not track anything from these users, the only data sent to the server is found in the definition.json files created along with the portraits. This data includes, the URL, tags, file hash, and the cropping information.
Last update: Sunday, November 28, 2021
Genre: RPG
File size: 82 MB
see more
Popular files for Pathfinder: Wrath of the Righteous