Postal - Game demo - Download
Demo version of Postal , a(n) action game, for PCs and laptops with Windows systems. Free and legal download. Enjoy!
file typeGame demo
file size19.6 MB
downloads49
(last 7 days)19
last updateThursday, September 22, 2022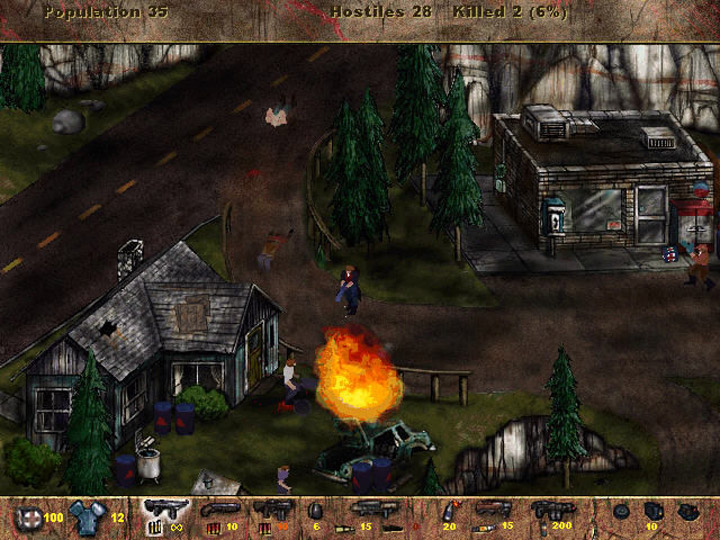 This is a demo version of Postal, a 1997 action game.
This is a special demo version of Postal which includes one level of the release version. The release version includes 17 standard game levels, 15 multiplayer levels, and 23 challenge levels.
This version includes 1 single player level (with 3 difficulty levels), 1 multiplayer level, and 1 challenge level. This version has most of the same options as the full release version, but some things have been cut out to keep the download to a "reasonable" size. This version only includes one of the sound quality options, the 11.025kHz 16-bit. The release version has options for 22.050kHz 16-bit or 22.050KHz 8-bit sound.
Welcome to Paradise...Arizona. They're out to get you (or are they?). It doesn't matter, you don't have time to think, only time to kill. GO POSTAL!! Blast, maim and fire-bomb your way through 17 unsuspecting locales from a small town to a heavily guarded military complex...
Conspiracy or Insanity? Don't get too crazy - this killing spree is anything but senseless. Out here, strategy is key - and the locals are packin' - so take advantage of the third-person "premeditated" perspective that lets you see exactly who's cold and who's still able to pull a trigger.
Last update: Thursday, September 22, 2022
Genre: Action
File size: 19.6 MB
Files for Postal
| Name | Type | Size | Date | Total | 7 days |
| --- | --- | --- | --- | --- | --- |
| Postal | demo | 19.6 MB | 9/22/2022 | 30 | 19 |
| Postal - Hotmail | mod | 1.3 MB | 4/2/2017 | 576 | 1 |