JoJo's Bizarre Adventure: All Star Battle R - ASBR Name Fixinator v.1.2 - Game mod - Download
The file ASBR Name Fixinator v.1.2 is a modification for JoJo's Bizarre Adventure: All Star Battle R, a(n) fighting game. Download for free.
file typeGame mod
file size549.1 KB
downloads505
(last 7 days)11
last updateTuesday, October 4, 2022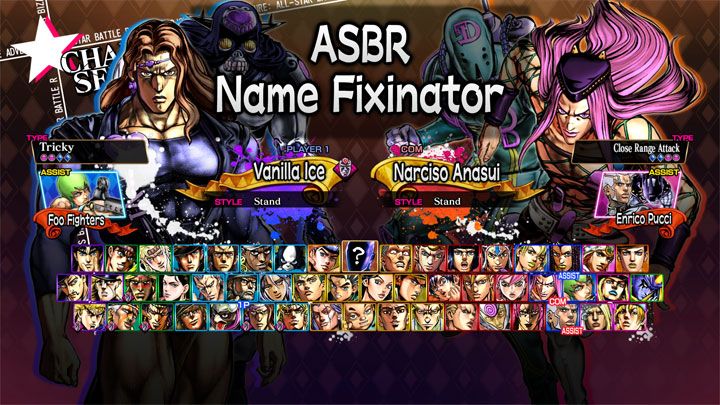 ASBR Name Fixinator is a mod for JoJo's Bizarre Adventure: All-Star Battle R, created by Wryyyong.
Description (in author's own words):
A mod made to reverse all names changed as a result of licensing issues.
A full list of changes can be found within the mod archive's README.txt.
Installation
Unlike the original ASB release, adding mods to ASBR is exceptionally easier.
FOLLOW THESE STEPS:
1. See that folder in the archive that starts with "Extract"? Do exactly what it tells you to.
2. If prompted to overwrite existing files, do so.
That's it. That's literally it.
Assuming you didn't massively screw up, all you need to do is launch the game to
verify that the files are loading correctly.
================================
FAQ
Q: Will I get banned for using this?
A: No. Use of the data_win32 folder does not trigger EAC or any other anti-cheat in any form.
Q: Why is <character X> named this way? I've seen them named differently in other sources.
A: This mod is explicitly following romanizations provided by official media such as JoJo6521, JOJO A-GO!GO! and JOJOVELLER.
Some scanslations and fansubs, for example, use names spelt directly after their reference. A common example of this is with the Pillar Men: Esidisi becomes "ACDC", Wamuu becomes "Wham", and Kars becomes "Cars".
The JoJo Wiki has an article dedicated to the name variant phenomenon, detailing the hows and whys, giving tables for each variable name detailing both their official one, the sources for it, and a list of known variants stating where they came from.
Q: Will you change <line X> to say <line Y> like it did in the anime/manga?
A: This is a name-fix mod, not a localization-fix mod. The goal is to reverse licensing-based changes. Over the past few years between the creation of my patch for the original ASB and now, I've grown more of a fondness for Woolseyisms.
The only lines I've changed outside of ones with names in them is "Like hell I will" to "I refuse", and nothing more.
Last update: Tuesday, October 4, 2022
Genre: Fighting
File size: 549.1 KB