Warhammer 40,000: Dawn of War II - Retribution - Dawn of War II - Eternal v.0.5.4 beta - Game mod - Download
The file Dawn of War II - Eternal v.0.5.4 beta is a modification for Warhammer 40,000: Dawn of War II - Retribution, a(n) strategy game. Download for free.
file typeGame mod
file size1303.1 MB
downloads323
(last 7 days)10
last updateTuesday, August 8, 2023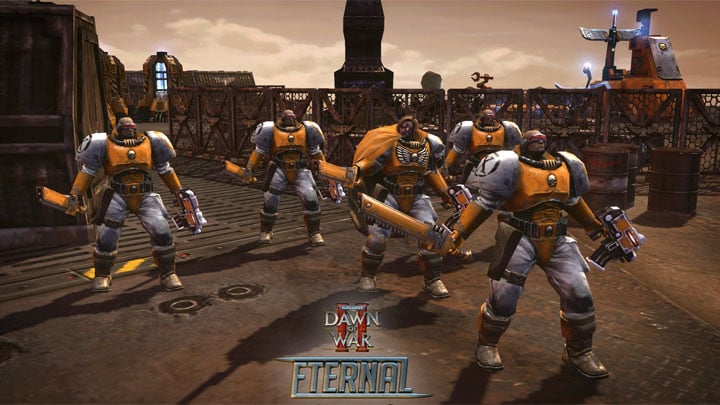 Dawn of War II - Eternal is a mod for Warhammer 40,000: Dawn of War II - Retribution, created by Team 39. Be sure to also check out mod's official Discord Server.
Description:
Expansion on the Dawn of War 2 formula with a focus on spectacle and sub-faction strategy - from the creator of Dawn of War 3: Redux.
Features include:
Light logistics system, including basic (NOT DAWN OF WAR 1 SCALE!) base building and research tech trees allowing you to upgrade your army on the field over the course of the game. Requisition points can be locked down and secured with basic turrets to buy time, and resource income can be bolstered with global upgrades and base-constructed plasma generators. Scale has been moderately increased and games take longer to complete compared to vanilla, with both a higher base population counter and the ability to further expand it with each point captured.
Increased wargear choices for familiar units in part thanks to models provided by the teams of the Elite and Vengeance of the Blood Ravens mod. To use Assault Marines as an example, they now have power swords, power axes, combat shields, and plasma pistols as options. Some hero wargear has been added as well.
'Sub-factions' added in manner designed to encourage an increased emphasis on hero choice, with each hero having a combination of faction-wide shared and individually unique units and technologies available to them rather than simply being some global ability changes. Think the company system from Company of Heroes, or the sub-factions in C&C 3 Kane's Wrath. (No new factions have been added - this is entirely within the confines of the original 6 game factions)
Improved unit feel - infantry now respond quicker, move quicker, and have more pronounced formations. Vehicles differ wildly in speed and responsiveness, with Falcons and Chimeras darting around the field while heavy Land Raiders and Baneblades take time to get moving and come to a stop. A new armour class of 'Light Vehicle' has been introduced to further separate mid-game vehicles from late-game heavy tanks. Changes are made with consideration for gameplay and lore accuracy, with gameplay always coming first.
Reworked vanilla maps as well as maps provided to us by the community, in particular map maker Swift, with an increased number of points and cleared out base areas. This is a work in progress and thus far not all maps have been reworked.
Custom music composed by myself (for better or for worse) as well as 'music packs' allowing vanilla DoW 2, DoW 1, or the new music to be played, custom voice lines for some of the new units, and some sound effects redone to go along with the altered feel of certain in-game weapons.
Very slightly changed user interface design to improve access to abilities for buildings and allow an increased number of upgrade choices available for units while retaining a high-quality feel.
Addition of minor dynamic lighting where appropriate and without performance being affected, such as the muzzle flashes on weapons.
Guest appearance by Chaplain Diomedes and a Shipment of 100 Banebl...wait...
Many thanks to the developers of the Elite mod, Vengeance of the Blood Ravens, and Codex Mod for both their direct assistance in developing this mod as well as the assets they have provided for us to use!
The playable beta currently features only THREE modded factions.
The Space Marines, featuring the First Company, Fifth Company, and Reserve Company
The Imperial Guard, featuring the Militarum Tempestus, Infantry Company, and Armoured Company
The Eldar, featuring the Path of the Warrior, Path of the Outcast, and Path of the Seer
The campaign and last stand mode are, at this moment, TBD for their implementation - Last Stand may be kept 'as-is' without modification but available to launch, and the Campaign being added would only be done were it altered to fit the theme of the mod (which may be more than myself and my team are capable of at the moment) - it would also require custom voice lines to be in new directories, not overwritten ones, which I am working on figuring out with partial success which has actually been recently figured out and puts this higher on the possibility list!
Looking for others to play Eternal with?
Join the Eternal Discord server!
This is genuinely the Eternal discord this time! No longer does this link to Toaster Race.
But you can still join my personal discord if ye want.
This is NOT "Dawn of War 1 in Dawn of War 2"!
Although this mod DOES draw a lot of influence from Dawn of War 1, which is one of my personal favorite games of all time, we are not going for a direct one-to-one implementation of DoW 1 within DoW 2 with Eternal. Many other games inspire this one, in particular Company of Heroes and the old Command & Conquer series, another personal favorite of mine, alongside its heavy DoW 1 inspiration. And of course, Dawn of War 2 itself.
With that out of the way...
Mod offers an installer.
Last update: Tuesday, August 8, 2023
Genre: Strategy
File size: 1303.1 MB
Files for Warhammer 40,000: Dawn of War II - Retribution
| Name | Type | Size | Date | Total | 7 days |
| --- | --- | --- | --- | --- | --- |
| Warhammer 40,000: Dawn of War II - Retribution - HALLS OF WAR MAP PACK v.3 (2092021) | mod | 1366.3 MB | 11/2/2021 | 1.2K | 12 |
| Warhammer 40,000: Dawn of War II - Retribution - High resolution UI scaling patch v.12052023 | mod | 1.1 MB | 6/4/2023 | 103 | 11 |
| Warhammer 40,000: Dawn of War II - Retribution - Dawn of War II - Eternal v.0.5.4 beta | mod | 1303.1 MB | 8/8/2023 | 313 | 10 |
| Warhammer 40,000: Dawn of War II - Retribution - DoW II: Codex Edition v.1.1 | mod | 2340.4 MB | 4/16/2018 | 1.8K | 9 |
| Warhammer 40,000: Dawn of War II - Retribution - Cope's DoW2 Toolbox v.1.9.9.1h | mod | 2.6 MB | 9/21/2020 | 4.3K | 9 |
| Warhammer 40,000: Dawn of War II - Retribution - Elite Mod v.2.9.9.1 | mod | 1883.9 MB | 7/16/2023 | 7.8K | 8 |
| Warhammer 40,000: Dawn of War II - Retribution - Test of War v.3.0 | mod | 1566.3 MB | 3/15/2020 | 1.4K | 4 |
| Warhammer 40,000: Dawn of War II - Retribution - Great Hammer v.2.5 | mod | 75.9 MB | 5/28/2017 | 5.8K | 3 |
| Warhammer 40,000: Dawn of War II - Retribution - Metallic Edition v.3.1.9 | mod | 303.7 MB | 8/15/2020 | 1.6K | 2 |
| Warhammer 40,000: Dawn of War II - Retribution - Corpses Stay v.1.0 | mod | 19 MB | 5/15/2016 | 1K | 2 |
| Warhammer 40,000: Dawn of War II - Retribution - Vengeance of the Blood Ravens v.3.5 | mod | 3147.8 MB | 8/23/2023 | 4.4K | 2 |
| Warhammer 40,000: Dawn of War II - Retribution - Destroyer Mod 2.0 | mod | 178 MB | 7/8/2013 | 5.5K | 2 |
| Warhammer 40,000: Dawn of War II - Retribution - Space Hulk v.1.31 | mod | 251.2 MB | 11/25/2013 | 3.4K | 2 |
| Warhammer 40,000: Dawn of War II - Retribution - Rites of War v.3.9 | mod | 567.5 MB | 11/20/2017 | 1K | 1 |