Opinions
12 October 2023, 12:48
Forza Motorsport vs Gran Turismo Comparison. The Old, Symbiotic Feud
The competition for the best Xbox and PlayStation racing game has been going on for 18 years, but that includes a hiatus of entire six summers. Right now, we're entering another stage of battle between Forza Motorsport and Gran Turismo.
Six years. That's how much time has passed not only since the premiere of the previous installment of Forza Motorsport series. 2017 was also the last time Gran Turismo (Sport) could compete with Turn 10 Studios' production. Who won back then? The details of this clash are now lost to oblivion.
It has been suggested that this duel could have remained unresolved, as these games didn't even enter the same arena. One fought for single-player afficionados, while the other offered a powerful multiplayer.
The situation looks entirely different today. The new Forza Motorsport and Gran Turismo 7 are equal rivals, both offering rich single and multiplayer features. Now you can put them wheel to wheel and witness the revival of this old feud, as PlayStation and Xbox compete once more to determine who has the best racing game in the world.
Which is better? Who's winning this confrontation? The short answer is: the players.
Round one: atmosphere
You didn't look at this article just to be satisfied with the shortened answer, did you? Alright, let's conduct this duel in a proper manner, round by round, ensuring a fair exchange of blows. Let's start with something unusual for racing games, namely – the atmosphere.
You know how it works in Gran Turismo – Polyphony Digital's title is famous for it. Majestic music, stunning car models in breathtaking natural settings, and contemplation of automotive heritage supported by a wealth of knowledge provided by the game. Almost every aspect of the gameplay is imbued with an elevated atmosphere.
How does Forza Motorsport showcase cars? I would say "objectively." Yes, Turn 10 Studio no longer thrusts us into a gloomy garage with some nasty pseudo-rock playing on the radio, as was the case in FM7. The atmosphere of FM6 has been restored, with optimistically illuminated surroundings and music that, while completely different in tone from that of GranTurismo, also helps to awaken fascination with motorization.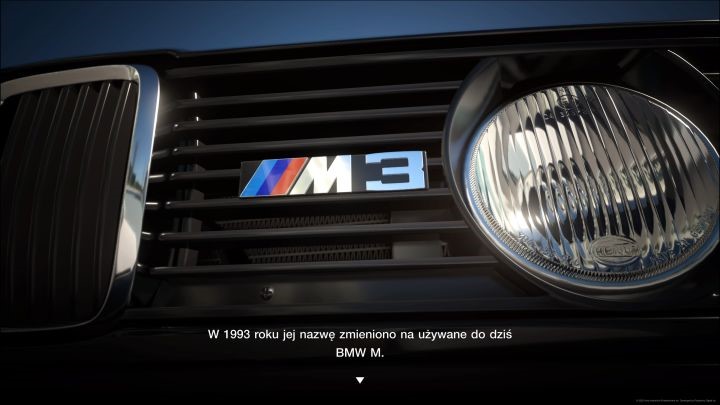 The car models in Gran Turismo are more detailed... Source: Gran Turismo 7, Polyphony Digital, 2022.
It's a pity that the American developer basically doesn't do anything more to interest casual players in cars. Short introductions to career mode aren't enough. That's a sad reality, especially since Turn 10 still has a great tool called ForzaVista at its disposal, but squanders its potential.
The opportunity to look under the hood and in the trunk, or to take the backseat, is a real treat. However, it's a cheap entertainment, nothing other than a feast for the eyes – unlike in the previous installments of the series, where we had technical data of the vehicles displayed (up to FM7), or essential history of their manufacturers shown (up to FM6).
Therefore, in the first round, i.e. in terms of vibe, the noble Gran Turismo wins.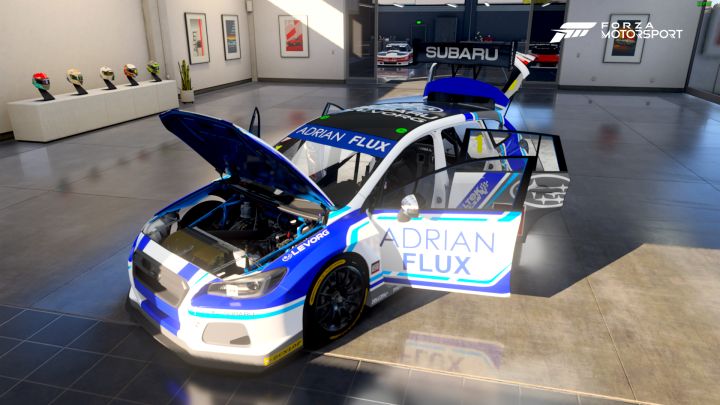 ...though Forza blocks with its open doors, hoods, and trunk lids. Source: Forza Motorsport, Turn 10 Studios, 2023.
Round two: cars
Let's stick stay with cars, switching from a qualitative method to a quantitative one. Forza Motorsport debuts with 501 cars, while Gran Turismo 7, after a year and a half of development, has 481 models (it started with 424). So, Turn 10 Studios' title wins by a small margin, it seems? Its advantage is actually greater.
Additionally, we must consider duplicates. While only a few vehicles would be lost from Forza if we merged similar models (e.g. McLaren 720S in Coupe and Spider versions), and in Gran Turismo – as in Gran Turismo – there are many more analogous cases.
The selection of specific cars also seems to be better in the Xbox's game – although we're obviously entering the area of subjective feelings. Since both titles aspire to be racing simulators, let's focus on the racing models.
While the selection of modern cars may be relatively equal, Gran Turismo holds an advantage in the DTM, GT500, and GT4 classes. Forza, on the other hand, compensates for this by including models like BTCC or TCR, as well as representatives from the Supercar V8 category.
In the flagship car game for PlayStation, we won't find any classic racing cars and almost no GT monsters from the 70s. And there are only a few historical F1 racing cars from the 80s. Gran Turismo does have the latest Super Formula and several iconic cars known from Le Mans, which the competitor lacks. However, this alone isn't enough.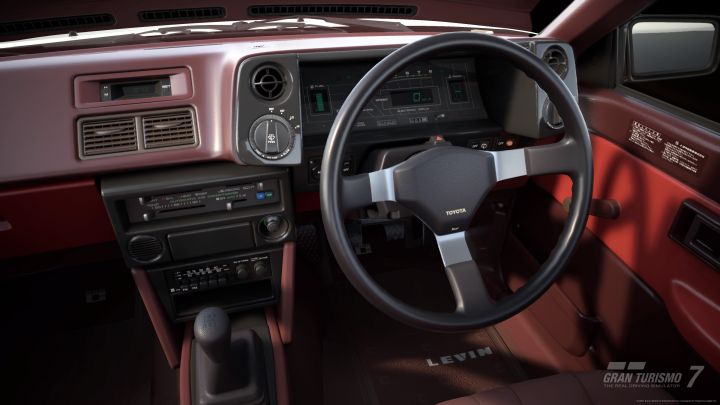 Forza Motorsport has taken a big step forward in car sound design, allowing it to confidently compete with Gran Turismo in this aspect. Source: Gran Turismo 7, Polyphony Digital, 2022.
The fact that cars from different classes and eras are thrown into just four "bags" and mixed together almost freely further weakens the position of Japanese production as a self-proclaimed simulator. It hurts especially in Gr 1, where the top LMP1 vehicles are beaten by Gran Turismo exclusive prototypes, that is fictional cars that imitate real race cars in an unconvincing manner. Polyphony Digital is paying too much attention to concept models at the expense of classic cars.
Forza also makes mistakes in this respect. It fails to distinguish between GT3 cars and GT4, and in the new installment of the series, it even includes V8 supercars among them. However, it is divided into 17 divisions – more than in FM7 – allowing for the inclusion of vehicles on the track that can genuinely compete in the races.
An additional problem with Gran Turismo – which also includes track models – is that Polyphony Digital seems to add cars to the game randomly, without worrying about whether they'll find a use, for instance, in competitive races.
While Forza Motorsport 7 was developed in quite a similar way, the latest installment shows a change in approach. Now, Turn 10 Studios selects cars to ensure that each one has multiple "natural enemies" and can be pitted against each other in evenly matched races.
If we also add to this an advantage in terms of the number of available modern cars (i.e. authentic models from the last few years), the victory of Forza over Gran Turismo in the second round becomes almost inevitable.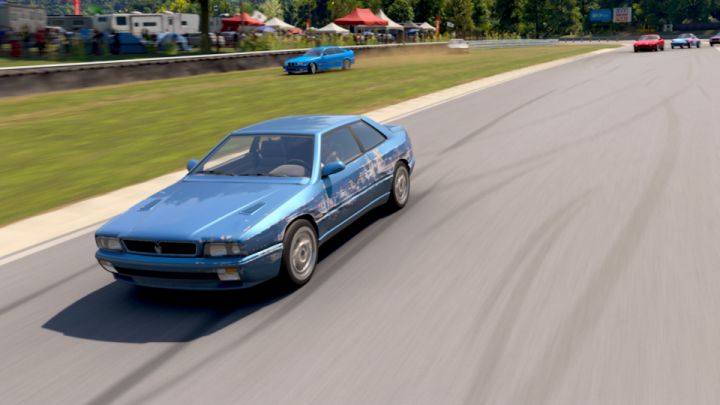 In both games, the car damage is minimal, but Forza is more eager to display it and places a greater emphasis on mechanical damage after collisions. Source: Forza Motorsport, Turn 10 Studios, 2023.
Round three: routes
As soon as I said that, we moved on to a category where Gran Turismo is virtually unbeatable. This time, numbers will be sufficient. Forza Motorsport debuts with 20 routes. The Polyphony Digital work initially offered 34 locations, and added three more within a year and a half.
The situation is similar with the route variants – 48 and 104 respectively. Japanese production also wins in terms of diversity. Aside from professional race tracks – real and fictional ones – the game also features scenic, urban, and even gravel routes. And although GT7 isn't as impressive as the previous installments (up to GT6), it's more than enough to defeat the rival.
Forza fans can only hope for the game's rapid development – and take some comfort in the thought that Turn 10's title provides variable, rainy weather in each of the 20 locations (Gran Turismo only in 11).
Round four: physics and driving
In this round, the clash becomes more even – at least in the first phase. Both Forza Motorsport and Gran Turismo 7 have undergone an interesting evolution compared to their predecessors, leaning towards being more realistic racing simulators.
Six years ago – in the era of FM7 and GT Sport – it seemed unthinkable, but today you can more often come across comparisons of these two series to more realistic representatives of the genre, such as Project CARS or Assetto Corsa Competizione.
And even though such comparisons must naturally be unfavorable to Forza and Gran Turismo, simulator enthusiasts sometimes point to some of their features that they'd like to see in their favorite titles. Notable aspects are the useful interface elements and animated referees with flags from Polyphony Digital's game, as well as the display of track limitations from Turn 10's title.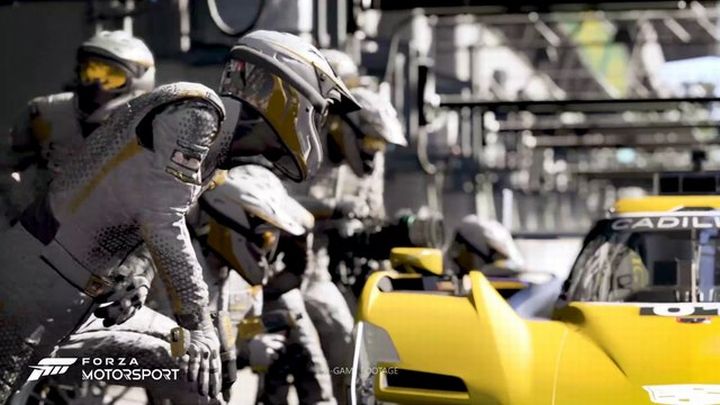 Forza Motorsport 7 didn't give proper attention to pit stops and didn't consider tire and refueling strategy, which is why it fell behind Gran Turismo in terms of race realism. The new installment changed that. Source: Forza Motorsport, Turn 10 Studios, 2023.
But we were supposed to talk about the driving model. In both games, the physics are correct, satisfyingly realistic, and relatively challenging to master (although supported by numerous assistances that allow beginners to have better fun) – so it's difficult to clearly choose a winner here.
The same applies to gameplay when using a steering wheel (in my case, it was Logitech G29). The force feedback conveys signals quite precisely about what is happening with the car's wheels, making you feel the unevenness of the surface and the loss of traction.
However, in Forza, control of sliding is more intuitive, and steering wheel movements aren't accompanied by sharp jerks. Besides, Gran Turismo amazes with an exceptionally modest palette of controller settings of this type – even The Crew offers more advanced options.
Polyphony Digital's production loses further points when on top of the physics simulation, we also consider the broadly understood driving experience– represented by the sense of speed, the available selection of cameras and the possibility to adjust them, or the adjustment of the screen interface to individual preferences.
The cornerstone of that is the configuration of the field of view. Here, the matter is clear: Forza Motorsport, after whole seven installments, finally offers this option on both PC and Xbox, whereas Gran Turismo does not. And this one aspect is enough for the Japanese game to leave so much to be desired in terms of experience.
Additionally, the cameras aren't working too well. The stiffness and clumsiness of the view from the car has almost become a trademark of this series. It's also bothersome when the perspective in the cockpit is too close to the steering wheel (sometimes too low). Although Polyphony Digital has provided vertical and horizontal seat adjustments, its range is ridiculously small.
The game, which is a simulator, also lacks an alternative view from inside the car that shows the dashboard without a steering wheel. FM7 already offered this feature, along with an immersion-enhancing drift camera that makes the driver "look" in the direction of the corner, rather than straight in front of the car. Furthermore, Gran Turismo irritates with a cluttered screen that can be adjusted to our preferences in a very limited way.
Therefore, this round, even though at the beginning – i.e. when discussing driving simulation – both sides had equal chances, in the end, it is clear that Forza emerged as the winner, whereas Gran Turismo must finally start catching up.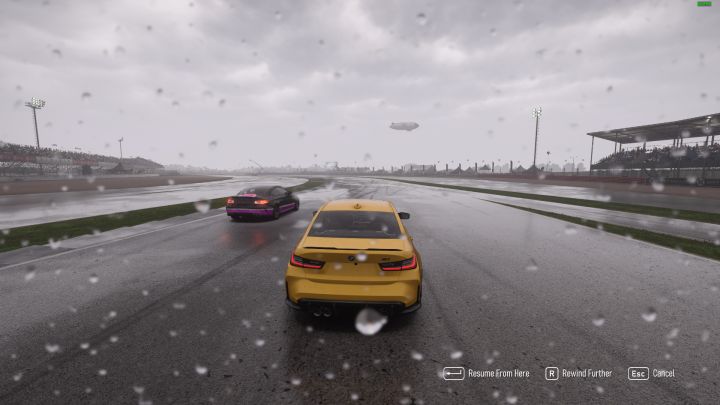 The rain is visually appealing in Forza, but it's more realistic in Gran Turismo. Turn 10 not only doesn't simulate the so-called dry lines after the rainfall ceases, but there are even no puddles and aquaplaning (even though both of them were featured in FM6 and FM7). Source: Forza Motorsport, Turn 10 Studios, 2023.
Round five: single-player
We now move on to the next multi-aspect issue, where it's more difficult to decide on a clear winner. You need to take into account the construction of the career mode, the progression model, the variety of gameplay options, and the artificial intelligence during races.
Gran Turismo certainly crushes Forza – at least in its initial stage – in terms of diversification of game modes. In addition to the classic competitions on the world's tracks, we also have musical rallies that help players master the challenges of each route, along with iconic license tests, and numerous missions. Among these are drift races, parallel races, and various challenges, which often surprise with ingenuity.
Forza Motorsport currently offers nothing more than practice sessions and races. Despite the use of a few interesting solutions in the game, it's hard to blame anyone if they start yawning before they even reach the end of such a short career mode.
Nevertheless, Turn 10 Studios' game outshines the competitor in several aspects, sometimes quite painfully. For instance – linearity. Gran Turismo guides the player by forcing them to participate in specific competitions in a predetermined order, limiting their freedom of selecting cars or order of races that make up the individual menus to a bare minimum. Access to the most basic game functions such as the multiplayer mode is determined by completing the final conditions – which, frankly, is even worse.
In Forza Motorsport, after a linear championship, you are given the freedom to choose competitions from various positions and freely switch between them for each race. All game modes – career, rivals, and multiplayer – are unlocked from the start.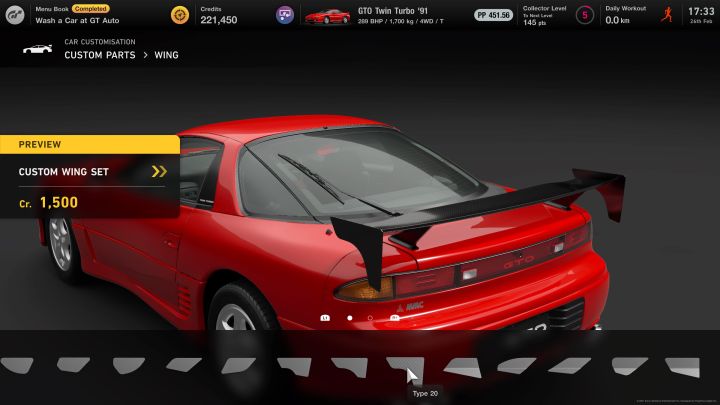 Both games allow car tuning fans to go wild (although not quite like NFS). Gran Turismo slightly surpasses in realism and complexity of its mechanics, but Forza makes up for the loss in accessibility. Source: Gran Turismo 7, Polyphony Digital, 2022.
The real "reconquista" of Forza takes place when we look at the races. Perhaps the biggest problem with the single-player mode in Gran Turismo 7 is the fact that almost every time, the game follows the same tedious pattern. The competitors are scattered, and we, starting from the last position, have to win the race. This is the so-called "chasing the bunny," which is more like maneuvering through traffic than taking part in a race.
Such associations are fostered by AI in the game developed by Polyphony Digital, which, traditionally for the series, drives calmly and in a straight line, and pays almost no attention to the player. Yes, the AI in Forza Motorsport frequently collides with our vehicle, but it usually doesn't seem a result of complete blindness.
However, this is where the similarities end. The races in Turn 10's game are really that – races. The AI drivers start as a compact group – in the determined order based on the lap times achieved during qualifiers – and the player makes it to the top three from a position of his own choosing (based on a new risk-and-reward system).
Although the drivers at the front of the pack tend to break away quite far ahead (after all, they didn't achieve the best results in qualifying for a reason), there are no tricks behind this, and there's no rubber banding. That means the opponents drive at their own pace, which may not necessarily be equal, and unlike the situation in GT7, they don't suddenly receive a power boost when the player overtakes them.
Let's consider the fact that the AI can utilize multiple driving tracks, reacts convincingly to the player's proximity, behaves unpredictably (including making various mistakes), and we discover another area where Gran Turismo seems to be a rather unplayable position. Nevertheless, it compensates for these shortcomings with an abundance of modes.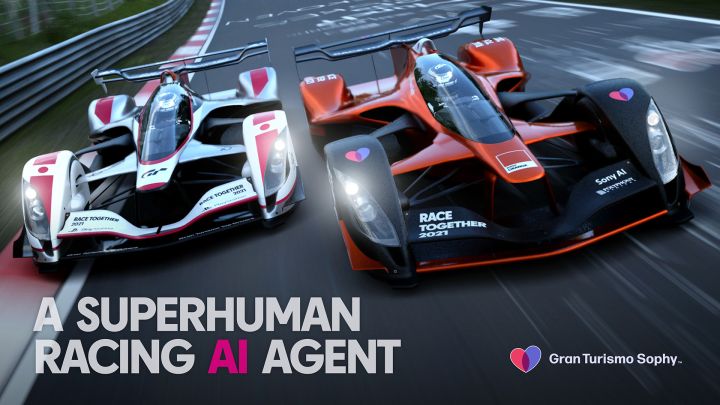 A significant advancement in the field of AI may be brought about by GT Sophy, which has been in development for several years. However, it's doubtful that its implementation in the game will be completed before the premiere of GT8. Source: Gran Turismo 7, Polyphony Digital, 2022.
Round six: multiplayer
Gran Turismo Sport must have given Turn 10 Studios something to think about. As I mentioned, in 2017 this game and Forza Motorsport 7 had little in common, because Polyphony Digital's title simply outclassed its rival with its new quality multiplayer mode.
The American developers rolled up their sleeves and worked for six years on solutions that would bring them closer to Gran Turismo – and indeed, they succeeded. First of all, the developer created systems to separate players who drive cleanly from those who play "dirty" (e.g., intentionally slamming into others), based on skill and safety assessments. These assessments have also enriched the single-player gameplay, adding to it a kind of "educational" layer.
Apart from that, the highlighted events in the multiplayer mode now resemble the so-called daily races from Gran Turismo. These are weekly competitions that change regularly, with sessions held every ten minutes or so, in which proper struggle is precede by practice and qualification. Simply put, the multiplayer in Forza Motorsport started to look much more professional. Therefore, in this round, I declare a tie.
Round seven: development and business model
Time and money. These are the two "resources" on which the policy of post-release support for games is based – and to which Turn 10 and Polyphony Digital have extremely different approaches.
Both games have in common the fact that the pillars of their development are monthly updates with free content (mostly new cars). These updates are intended to ensure the longevity of the titles in question. They are, simply put, games-services. Although Forza Motorsport hasn't received a single update like that yet, the almost two-year life cycle of its sibling – Forza Horizon 5, combined with the developers' announcements – gives a good idea of what it should look like.
Of course, free attractions are only a facade behind which monetization strategies are supposed to work, providing developers with stable income. And here, both of these games suddenly diverge.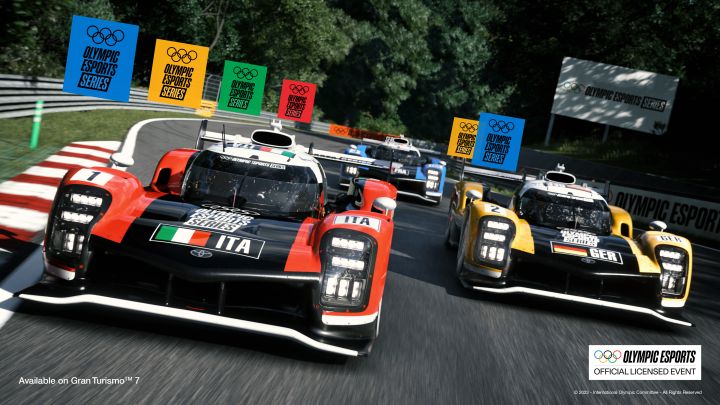 While the inclusion of free cars in updates is commendable, several fans are disappointed with the Gran Turismo developers for prioritizing e-sports and neglecting the enhancement of the single player mode. Currently, they only add a handful of new races each month. Source: Gran Turismo 7, Polyphony Digital, 2022.
Gran Turismo relies on good, old micropayments. Sometimes players have to bang their heads against the wall, confronted with absurd solutions designed to make them reach for their wallets.
Examples? Can't see why not. Cyclical update (read: increase) of prices at the seller of legendary cars. Invitations to purchase exclusive cars, which expire after 30 days (previously 14). The resale of your own vehicles only available after completing the career (remember this option was added more than half a year after the game's release). Limited capacity of the virtual wallet (previously up to 20 million "free" credits). And so on.
Add to this high prices of cars and a rotating catalog of models available for purchase, although these are already traditional elements for the series. The result is aggressive monetization, which give rise to strong a emotion, also known as fomo. Sometimes it makes your blood curdle.
Fomo is a phenomenon that also occurs in Forza – though without micropayments. Microsoft's development teams are dedicated to adding new cars on a weekly basis, which can be obtained through specific activities and are only available for a limited time. The cars do come back, but you may have to wait a while for them (sometimes very long!). Additionally, unlocking them on the second attempt is often much harder.
Forza Horizon 5 operates on these principles. Currently, it appears that Turn 10 has taken the criticism of the series to heart, and Forza Motorsport will be changing the way it makes new cars available. More cars will be permanently introduced to the showroom, and "exclusive" rewards for additional races in career mode will be available for a longer period – at least two weeks.
The secret that defines this particular, and surprisingly player-friendly development model, is Game Pass. The business managers in Redmond view these subscriptions as the primary source of their revenue. They strive to incentivize their subscribers to remain loyal to the service and pay for it on a monthly basis.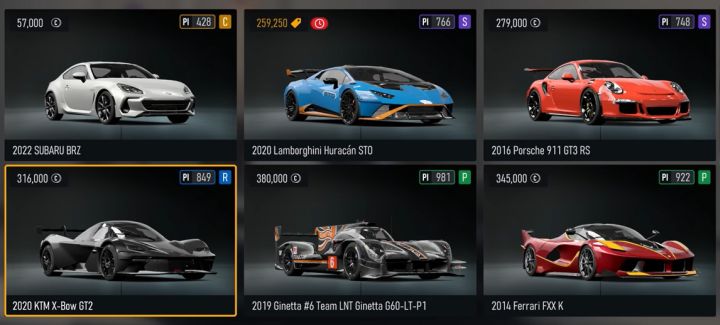 The new Forza Motorsport significantly reduces the prices of cars compared to previous installments of the series, while in Gran Turismo they continue to rise. The title of Polyphony Digital also doesn't offer a test drive before purchase. Source: Forza Motorsport, Turn 10 Studios, 2023.
However, this doesn't mean that Forza Motorsport will never get additional paid content. Apart form the expansions prepared as bonuses for the more expensive game editions at launch. Forza Horizon 5 has been receiving car packages every two months since June. This clearly indicates an experiment that, if supported by players, may eventually extend to the game from Turn 10 Studios.
In any case, when it comes to monetization, both series have a thing or two on their conscience, but Forza, unlike Gran Turismo, can get absolution. It's one thing to lure players into the game week after week by offering fresh content and interesting activities. It's a different matter entirely to sacrifice the mechanics and gameplay on the altar of profit.
Final round
The time has come to settle this duel once and for all! Who's coming out on top? Shall I repeat the cliché that the true winners are players? Well...
I will resort to scores provided by the critics. When I tested Gran Turismo 7 at launch, I gave it a 7. After about a year of development, when Polyphony Digital filled the most glaring gaps, I raised it by just half a point. Forza Motorsport starts with a score of 8 right off the bat.
So is Turn 10 Studios winning? Yes, but it isn't a decisive victory. I think Forza is more fun, and I am more likely to come back to it. Nevertheless, I will also find some time for Gran Turismo – at least for one session a week, as I have been doing for the past year and a half.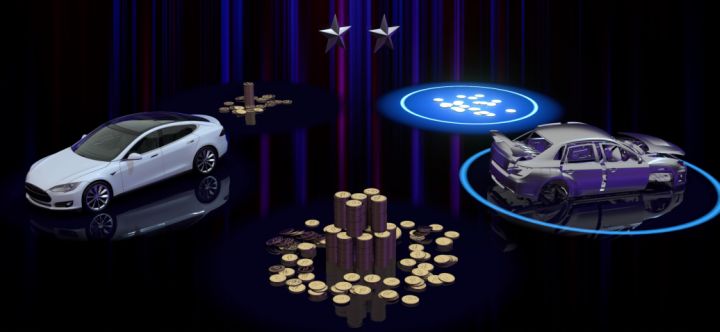 In Gran Turismo Sport, the roulette allows players to obtain a new car daily. In GT7, nine times out of ten, we get a measly penny or an invitation to the showroom from the roulette. Source: Gran Turismo 7, Polyphony Digital, 2022.
This finally justifies the article's title. Forza and Gran Turismo don't just need each other solely for competition, but also because it provides the developers with the motivation to continuously develop and enhance both games.
Equally important is the fact that both games simply complement each other effectively. Thanks to Gran Turismo, I've discovered fascinating cars, admired them from a distance, gained knowledge about them, and learned about their place on the automotive map of the world. I play Forza to experience how these exclusive cars drive, and to explore all their details.
I don't think Turn 10 Studios and Polyphony Digital are eager to step onto rival territory and take everything that makes the other game unique... However, I expect that Gran Turismo will provide a better driving experience – if not in the seventh installment, then maybe in the eighth. Who knows?
Therefore, in a few years, Forza Motorsport may no longer be able to maintain its "indecisive" victory – unless the Americans make up for all the shortcomings of their work and the Japanese don't start feeling like even more aggressive monetization.
Christopher Mysiak | Gamepressure.com