golf3DS Video Games
Video Games Encyclopedia by Gamepressure.com
3DS is the 8th generation portable console from Nintendo and a successor to DS. It was released in North America and Europe in March 2011. The most important new feature in 3DS in comparison to its predecessor was displaying stereoscopic 3D effects on one of its screens (thatís also where the console's name comes from). Sales of 3DS weren't as spectacular as the results achieved by DS, but the newer console also achieved great success.
Browse the Encyclopedia by genre and tags. Each game has one main genre: Action, Fighting, Puzzle, Adventure, RPG, Sports, Strategy, Simulation, Party, Racing, Arcade. You can search multiple tags and filter games by platforms, scores, or release dates.
Mario Golf: World Tour
Sports 01 May 2014
A fun sports game in which, with the help of Mario, Luigi and the rest of the characters of the extremely popular series, we play a number of golf tournaments taking place in different locations and using different rules of different modes of play. Most of the gameplay modules are oriented towards online competition.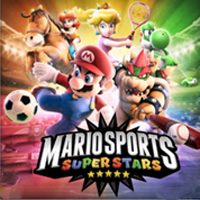 Mario Sports Superstars
Sports 10 March 2017
A sports game created by Camelot Co. Ltd., specifically for Nintendo 3DS. The game offers various sports disciplines, such as football, horse racing, golf, baseball or tennis. Each discipline can be viewed as a separate game, and the contestants are represented by characters such as the titular Mario, Luigi, and other Nintendo characters. Apart from the single-player mode, Mario Sports Superstars also features competition-oriented multiplayer equivalents (playable online or via local network).

Flick Golf 3D
Sports 09 April 2015
Flick Golf 3D is a special edition of a popular mobile sports game developed for Nintendo 3DS. The game mechanics are almost identical to its mobile version, the only difference being the fact that now they can employ the consoleís 3D capabilities. Rules of the game are a slightly simplified version of those from the actual golf matches. We have to use the console's touch screen to sink a perfect hole in one.