MMO3DS Video Games
Video Games Encyclopedia by Gamepressure.com
3DS is the 8th generation portable console from Nintendo and a successor to DS. It was released in North America and Europe in March 2011. The most important new feature in 3DS in comparison to its predecessor was displaying stereoscopic 3D effects on one of its screens (that's also where the console's name comes from). Sales of 3DS weren't as spectacular as the results achieved by DS, but the newer console also achieved great success.
Browse the Encyclopedia by genre and tags. Each game has one main genre: Action, Fighting, Puzzle, Adventure, RPG, Sports, Strategy, Simulation, Party, Racing, Arcade. You can search multiple tags and filter games by platforms, scores, or release dates.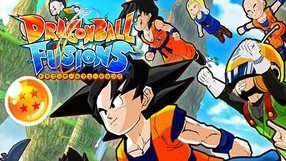 Dragon Ball: Fusions
RPG 04 August 2016
An RPG based on the cult-classic manga by Akira Toriyama. The game was developed by Ganbraion, with Konami acting as the distributor. We assume the role of a boy named Tekka, who along with his friend Pinich participate in a tournament requiring the participation of five-man teams. The title includes most of the characters from the animated series. Additionally, we can create our own fighter.