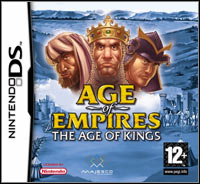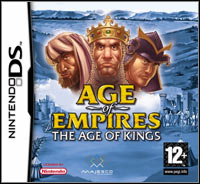 Age of Empires: The Age of Kings
NDS
Turn-based strategy game developed by Digital Eclipse for the Nintendo DS console. Players lead one of five nations (Britons, Franks, Saracens, Mongols and Japanese) to victory in unique campaigns.
Age of Empires: The Age of Kings

Release Date NDS

14February2006
developer: Digital Eclipse publisher: Majesco Entertainment Official website

game language: English
Age of Empires: The Age of Kings is, unlike the older brothers spent on personal computers and the PS2 console, a turn-based strategy. The title was supervised by Digital Eclipse, a company specializing in creating games for portable consoles (e.g. Grand Theft Auto on GBA). The publisher is Majesco.
Players can choose from five nations. These are Britain, France, Mongols, Saracens and Japan. Each offers its own unique campaign, during which raw materials should be acquired, used, various buildings erected and, most importantly, scientific discoveries leading to an increase in the level of knowledge and thus the development of technologies (ballistic, chemical, etc.). The next stage of the game is the expansion of the army, waging wars and conquering territories and other sources of raw materials. The authors have created 45 different types of units to help us expand. Apart from them, a whole group of heroes - both historical and legendary ones (e.g. Ryszard Lion Heart, Saladyn, Joanna D'Arc and Robin Hood) - have been made available to the players. Completion of the campaign opens access to a number of add-ons: maps that can be used in multiplayer gameplay and units. In case of any problems, you can use the built-in tutorial, with the help of which any "contentious" situation will be solved in a flash.
The top screen of the Nintendo DS shows the characteristics of the units and additional information about e.g. the amount of raw materials. In addition, we observe duels of warriors on it. The lower, touchscreen display allows you to operate freely on the map and plan subsequent movements with the help of a stylus (moving units, building, extracting raw materials).
The game takes place on hand drawn maps supported by three-dimensional, very detailed units. We manage the raw materials, the construction of new buildings and the training of new warriors from the level of simple and legible windows. The authors have also prepared a multiplayer (Wi-Fi) option for up to four people. They can take part in additional missions created specifically for this type of gameplay.
Please let us know if you have any comments or suggestions regarding this description.
Game mode: single / multiplayer Multiplayer mode: Player counter: 1-4
User score: 7,5 / 10 based on 77 votes.
Pre-release expectations: 7.6 / 10 based on 13 votes.
PEGI rating Age of Empires: The Age of Kings