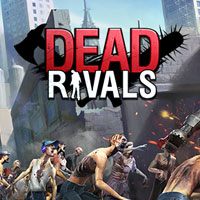 Game mode: massive online multiplayer
Multiplayer mode: Internet
Dead Rivals is an action-driven MMO game developed by the French Gameloft – a studio specializing in creating games for mobile devices. Among other platforms, the game described herein is available on PC, AND and iOS.
Plot
In the PC, AND and iOS release of Dead Rivals, the story plays a secondary role. Players are taken to a post-apocalyptic world overrun by hordes of zombies, where they have to fight for survival with other players.
Mechanics
In Dead Rivals for PC, AND and iOS, you begin the adventure by creating your character (you can customize the appearance and sex of your avatar) and selecting one of the three diversified specialties. The game uses the third-person perspective, and the gameplay revolves around completing numerous story-related and side missions (assigned by NPCs and representatives of the feuding factions that rule the wastelands), which are pretty much about killing hordes of zombies. In order to defeat the opponents, the player can use diversified firearms (the arsenal can be expanded by new guns one can create using the elaborate crafting system); during combat, the player can also use the special abilities which are unlocked as one progresses through the game.
Interestingly enough, the game described herein delivers vast maps the player can freely explore. On your journey, you have to be careful, as it is easy to encounter one of the powerful bosses – defeating such a foe often requires the main protagonist to side with other players. Dead Rivals for PC, AND and iOS also offers the option to develop one's own hideout, inside which multiple structures can be erected. The game also allows you to gather an army of dead men to assault the stronghold controlled by another player. Moreover, there is nothing standing in one's way to establish guilds and complete common objectives together with other players.
Game modes
The PC, AND and iOS release of Dead Rivals allows one to enjoy the single-player mode, however, the game shines with its multiplayer experience. There are multiple game modes designed for both cooperative and competitive (PvP) experiences. The former one includes dedicated missions in which players have to escape from dangerous areas, escort convoys, and preparing ambushes.
Technical aspects
Dead Rivals for PC, AND and iOS delivers 3D visuals resembling some of the Pixar's animation productions, the Xbox One release of Sunset Overdrive, and the popular game called Fortnite. This makes the game look very good on both PC / Windows and small screens of mobile devices.
Similar games:
Age Rating
age requirements: 16+
System requirements
Apple iOS
Additional information (iOS): Internet connection is required.
Android OS
Additional information (AND): Internet connection is required.