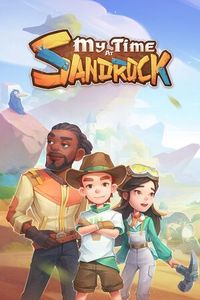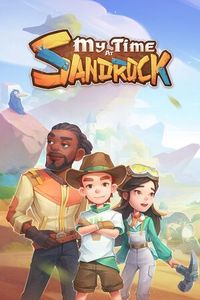 My Time at Sandrock
My Time at Sandrock is a sandbox RPG that is a sequel to the successful My Time at Portia. The game improves and deepens a number of ideas and mechanics from the previous part. Pathea Games is responsible for its development.
RPG | TPP | science fiction | sandbox | farm | crowdfunding | indie games | crafting
My Time at Sandrock is a sandbox RPG with elements of a simulator, which is a continuation of My Time at Portia released in 2019 (the action takes place in the same universe and time, although we play with a different character). The game is inspired by Dark Cloud 2, Harvest Moon series and Hayao Miyazaki works. The Chinese independent studio Pathea Games is responsible for its development.
Plot
My Time at Sandrock takes place in the deserted city within the Alliance of Free Cities, where the hero of the game comes to work as a builder, at about the same time as the story of My Time at Portia (this gives us a chance to see the same events from a slightly different perspective, as well as to meet characters known from the previous game). The town is in a bad condition and the protagonist is trying to reverse its fate. The main motive of the story is to deal with difficulties through cooperation with other people.
Mechanics
In My Time at Sandrock we observe the action from third person perspective ( TPP). The game mixes mechanics specific to the RPG genre with solutions taken from survival simulators. We explore the three-dimensional environment, talk to characters and perform tasks. The world of My Time at Sandrock is changing with time - we have cyclical holidays and changing weather.
The developers have created a completely new AI system, which makes NPCs more credible and interesting (e.g. they interact with each other). The player can also enter into various relationships with the people he meets (including romantic relationships).
While playing, we also collect key resources (water plays a very important role here) and build or repair structures in the city. We can also cook and catch a variety of animals - some of which can then be domesticated. As we progress, we also gradually develop the skills of the main character, which gives us access to completely new opportunities.
There are also dungeons, which can be divided into three types. In the first, we find valuable treasures and we do not need to be afraid for enemies. On the other hand, we will mainly encounter enemies that we have to fight against. The battle system is arcade, but has a little more depth than in My Time at Portia. The third type are places that have been partially discovered by someone else - in these we find both treasures and monsters.
Game modes
In My Time at Sandrock we can play both alone and with others. The core of the game is a role-playing campaign, but the production also offers a cooperative mode (in which we play on a completely new map).
Technical aspects
The 3D design of My Time at Sandrock has a similar design to My Time at Portia. The developers have, however, taken care to improve the sound quality, including professional voice-acting for the characters.
Game mode: single / multiplayer Multiplayer mode: Internet Player counter: 1-4
Age restrictions My Time at Sandrock: Good for all ages.
My Time at Sandrock System requirements
Minimum:
Intel Core i3-2100 3.1 GHz / AMD FX-6300 3.5 GHz
8 GB RAM
graphic card 2 GB GeForce GTX 760 / Radeon HD 7950 or better
20 GB HDD
Windows 10
Recommended:
Intel Core i7-9700K 3.6 GHz / AMD Ryzen 7 2700X 3.7 GHz
16 GB RAM
graphic card 6 GB GeForce GTX 1060 / 8 GB Radeon RX 580 or better
20 GB SSD
Windows 10