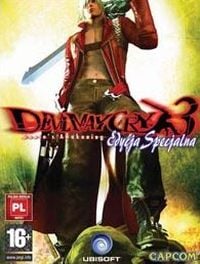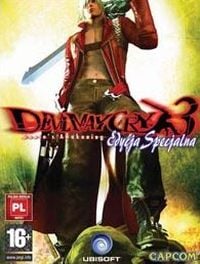 Devil May Cry 3: Dante's Awakening - Special Edition
The third installment in the third-person perspective action hack-and-slash series. The story of Devil May Cry 3: Dante's Awakening takes place before the events shown in the first installment of the series. It reveals more details about Dante's past and motivations.
Another reincarnation of the famous Devil May Cry game series about adventures of Dante, half-man, half-demon, who follows the steps of his father, the demon Sparda, in defending humanity from evil. Devil May Cry 3 is set before the events in the first installment of the game and the momentous duel between Dante and his twin brother Vergil, who chose to follow the evil. You can learn many surprising facts from the hero's past and face off hideous opponents, e.g. a man named Arkham or a huntress called Lady, devoted to killing demons. Since the PC owners get a special edition of Devil May Cry 3, they can play as Vergil and learn the story from a completely different perspective.
In terms of core gameplay, the third game is no different from its predecessors. This is still a dynamic action game filled with spectacular combat and compelling storytelling. A huge innovation is the mechanics of special combat styles. You can decide which one of four combat styles to use in fights: Close-range (focus on sword fighting), Long-range (fire arms), Evasive (a defensive style) and Counter attack. Moreover, exclusively for the Special Edition an additional style was prepared: Dark Slayer.
Naturally, the hero can use a whole arsenal of weapons, including cold weapons, revolvers, shotguns or even such extraordinary ones as the bat-summoning guitar. At all times your character can carry four types of weapons and quickly switch between them. Also, the combo system was expanded, i.e. special attacks launched after combining a series of simple strikes.
Devil May Cry 3 uses a 3D graphics engine, a little bit enhanced for the PC version, as well as surround sound systems Dolby Digital and Dolby Pro Logic II. The audiovisuals retain a unique atmosphere that combines elements of gothic and anime. It is also noteworthy that the game offers a number of unlockable extras, such as weapons, gear, characters, and difficulty levels. Besides, the PC version, just as its PS2 counterpart, has an option of speeding up the game by 20 per cent, it also has a new "continue" feature, better optimized difficulty levels, two new play modes (survival and movie) and another boss to fight.
Game mode: single player
Media type: 1 DVD
User score: 8,5 / 10 based on 3859 votes.
PEGI rating Devil May Cry 3: Dante's Awakening - Special Edition
Devil May Cry 3: Dante's Awakening - Special Edition System requirements
Recommended:
Pentium III 1 GHz
512 MB RAM
graphic card 256 MB (GeForce FX5700 or better)
2 GB HDD
Windows 2000/XP