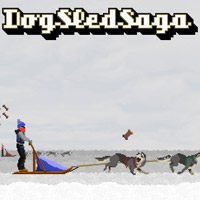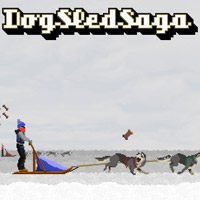 Dog Sled Saga
An arcade game based on dog sled racing, developed by a team consisting of two members.
Dog Sled Saga is an arcade game about dog sled races. The game - created for the PC, iOS and AND platforms - was developed by a duo composed of Dan FitzGerald and Lisa Bromie.
Story
Players take on the role of a marcher, i.e. a person leading a dog sled. The action takes place on the slopes of a huge mountain - this place has its own history, legends and secrets, which we will discover while playing. The authors took full advantage of the rich history of dog sled racing, which provided an attractive storyline layer of production.
Mechanics
The gameplay consists primarily in driving a sled during subsequent races. Our task is to throw tasty cubes in such a way that fast-paced dogs can catch them on the fly. Hungry animals are starting to slow down, but we have to feed them carefully, because the amount of delicacies we have is limited. If we overheat the dogs, we will get weak time, but on the other hand, if we exaggerate with the rate of ankle throwing, we may run out of them long before the finish line. The competition is varied by numerous obstacles scattered along the routes. Our progress is judged independently by fans, media, league authorities and the mysterious musher guild.
However, the fun does not end with the races themselves. At Dog Sled Saga for the PC, iOS and AND platforms we also manage our pack - for the money we earn we buy new dogs, pay membership fees needed to participate in better leagues and buy items to support the development of the charges. Careful care of four-legged dogs makes them in excellent condition and return obedience. If we neglect them, they start running slower first, and then refuse to listen to our commands. Each dog has its own name, appearance, personality and skills, all of which are designed to make players truly attached to four-legged dogs.
Technical issues
Dog Sled Saga is a fully two-dimensional game and the gameplay is seen from the side view. In addition to single player mode, multiplayer games are also available.
Please let us know if you have any comments or suggestions regarding this description.
Game mode: single / multiplayer
Expectations: 2.2 / 10 based on 13 votes.
Age restrictions Dog Sled Saga: Good for all ages.