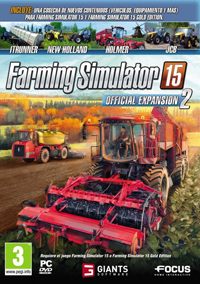 Farming Simulator 15: Official Expansion 2
PC
The second expansion to the popular farming simulator developed by GIANTS Software in 2014. The expansion does not bring any ground-breaking changes to the game's mechanics and focuses on new, unavailable before types of seeding machines, tractors, front loaders etc.
This is Farming Simulator 15 expansion pack.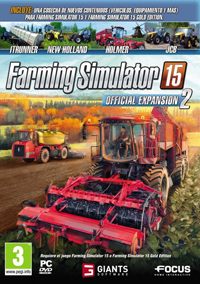 game language: English
game release date for PC:
10March2016
It took nine months for the creators of StarCraft to finish an extension to the science fiction real-time strategy that has won players' hearts all over the world. The was worthwhile, as the extension does not only enrich the story, but also introduces many novelties to the gameplay.
Plot
The action of StarCraft: Brood War for PC takes place after the events from the base-title. After defeating the Overmind, the Zerg went crazy, but they still pose a serious threat to the inhabitants of the Aiur planet. The remaining Protoss, supported by a handful of Terrans led by captain Jim Raynor, have to seek shelter on Shakuras, where the Dark Templars were once exiled. However, the newcomers are not welcome there, considering the fact that they are followed by the Zerg. Moreover, the Terran Dominion is attacked by the UED forces – the United Earth Directorate. The central character is Sarah Kerrigan. Once infested by the Zerg, she became the most potent Overmind – the Zerg Queen. Even though the Overmind who was controlling her is destroyed, no one really knows her true intentions.
Gameplay
The extension is divided into three separate campaigns for each race. The Protoss and the Terrans have 8 mission to accomplish, while the Zerg have two more. The missions vary considerably, and due to the introduction of new terrain types – twilight, ice, and desert – each level is far more diverse. StarCraft: Brood War published on PC introduces seven new units. The Terran received combat medics and a heavy antiaircraft frigate Valkyrie. The Protoss can produce Dark Templars, Dark Archons, and anti-air-fighters Corsairs. The Zerg are given Lurkers – powerful anti-ground ambusher hydralisks, and Devourers – anti-air flyer mutalisks. Properties and skills of some units from the base-title are now changed. Also, the developers gave the Terran's Goliath a larger range of sight thanks to the technological development – Charon Boosters. The Zerg received two ultralisk modifications – Anabolic synthesis (faster movement) and Chitinous Plating (increased armour strength). The official extension introduces more than 150 levels for the multiplayer mode. Since the official release of StarCraft: Brood War, the developer published a number of updates allowing for e.g. recording and replaying matches.
PEGI Rating