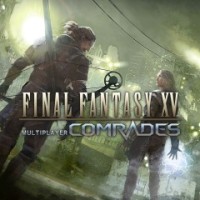 Final Fantasy XV Multiplayer: Comrades
Self-contained version of the extension for Final Fantasy XV entitled Comrades, which introduced to the game a completely new mode of cooperative multiplayer fun. The action takes place before the final of the basic version of the game.
Action | TPP | fantasy | science fiction | multiplayer | co-op | action RPG | jRPG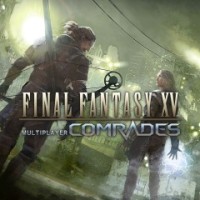 Game mode: single / multiplayer
Multiplayer mode: Internet, players: 1-4
Final Fantasy XV Multiplayer: Comrades is a stand-alone edition of Comrades - an extension to the 2016 release of jRPG Final Fantasy XV, which enriched it with a cooperation mode. Square Enix, Japan, is responsible for production. Unlike the original version of Comrades, this release is available in a free-to-play model.
Story
Final Fantasy XV Multiplayer: Comrades starts six months after the events presented in the thirteenth chapter of Final Fantasy XV. The whole world is shrouded in darkness, and people are forced to fight for survival in isolated cities, besieged by hordes of monsters traversing desolate roads and fields. Players play the role of anonymous members of the royal guard Lucis. Together with his companions, he defends people against threats while awaiting the return of the king, who is to restore the light to the world. During the adventure, the task of the guards is to find meteor fragments that can supply the electricity generators used by human stations.
Mechanics
When we start playing Final Fantasy XV Multiplayer: Comrades, we create our own hero using an extensive character editor. Then the players are transferred to the base in Lestallum city and begin to perform missions. There are several types of tasks available, but they are usually based on defeating specific creatures, defending a position or escorting a target. While performing further missions, we are rewarded with funds, which we allocate for the purchase of new equipment and outfits. A maximum of four people can participate in the game. You can create your own team or search for games created by others.
The course of the game has not changed significantly compared to Final Fantasy XV. The combat system remained the same, although we cannot use many different weapons and magic at the same time. One spell is assigned to each type of weapon, such as swords, daggers or shields. We are also deprived of the possibility of summoning. It is worth noting that in the stand-alone version of Comrades you will find weapons, bosses and clothes, which were not in the DLC.
Game modes
In Final Fantasy XV Multiplayer: Comrades we can only play with others.
Technical issues
Final Fantasy XV Multiplayer: Comrades uses maps and locations designed for the original Final Fantasy XV and its add-ons. Many monsters and items of equipment have also been borrowed. Thus, we should not expect major differences in graphic design - most news can be found in the character editor, which contains dozens of configuration options, as well as in the diverse and huge wardrobe of our hero.
Please let us know if you have any comments or suggestions regarding this description
Similar games:
PEGI Rating
System requirements