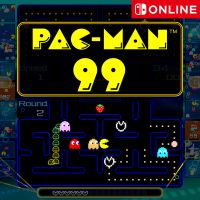 Game mode: multiplayer
Multiplayer mode: Internet, players: max 99

game language: English
game release date for Switch:
07April2021
Pac-Man 99 is a variation on Pac-Man, which enriches the classic rules of this cult arcade game with elements taken from the battle royale genre . Bandai Namco company is behind the development and release of this production. The title is available for free for subscribers of the Nintendo Switch Online service.
Mechanics
At first glance, Pac-Man 99 does not differ much from what we are accustomed to by its original. During the game we take control over the title character, who moves through the maze and eats balls scattered in it. At the same time, the protagonist must avoid the colorful ghosts wandering around, because an encounter with one of them ends the game. However, the protagonist is not completely defenseless, because after he eats one of the special power balls (clearly larger than the others) all the ghosts turn blue and can be devoured by him for a short time.
What distinguishes this title from other productions in the series is the fact that 99 players can play at the same time; according to the rules of battle royale, the victory falls to the person who is the last to stay on the battlefield. What's interesting, during the game we not only have an insight into the number of other players, but we can also check how the situation looks like on their boards.
We can make our competitors miserable in a variety of ways. First of all, the ghosts devoured by us end up on their boards in the form of so-called Jammer Pac-Man, which slow down the movements of encountered Pac-Man. If we want to send more of them in one go, we have to eat the sleeping ghosts in the maze, because after meeting us they start to follow one of the active ghosts, creating a kind of "train" and becoming an easy target for us. In addition, there are four buffs that give us an advantage over the ghosts (by increasing our resistance or speed) and four strategic options, allowing us to "kill" the opponents who are closest to defeat.
Game modes
Pac-Man 99 allows only to play in multiplayer mode.
Technical issues
Pac-Man 99 's graphic design is kept in retro style from the first game in the series, released in 1980. It can be expanded with paid add-ons changing the look of the boards and the sound palette, which are based on other cult productions from Bandai Namco's portfolio, such as Xevious, Galaga or Dig Dug.
Age Rating
age requirements: everyone