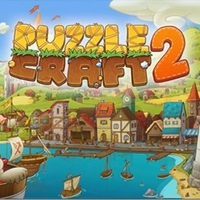 Puzzle Craft 2
The game brings a continuation to a series of mobile products developed by ATGames. Puzzle Craft 2 is an original combination of an economic strategy and a match-3 logic game. The game is set in a medieval-like world filled with magic.
Logic | Economic | play for free | logical elements | 2D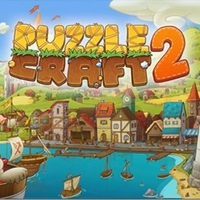 Puzzle Craft 2 for AND, iOS and WP mingles elements of economic strategies and match-3 logic games together. The game is a free-to-play title that uses microtransactions; it was developed by ATGames – a Polish studio which created the original Puzzle Craft as well.
Plot
Puzzle Craft 2 is set in a medieval-like world, which is filled with magic. The player assumes the role of the new leader of a small village in order to transform this place into a huge empire. Adding fantasy elements to the game brought more freedom to the creators as it comes to designing the challenges; also, the game features a system of magic represented by useful runes – when activated, those are capable of summoning additional settlers or changing the weather for example.
Mechanics
Similar to the original game, Puzzle Craft 2 for AND, iOS and WP is a hybrid which combines elements of economic strategies and match-3 logic games together. The player takes care of typical, management-related tasks, such as gathering resources, catering for the inhabitants, conducting scientifical research or constructing new buildings. One is also required to manage the finances efficiently, through balancing the spendings and investments appropriately. Simultaneously, obtaining resources, materials and yields is not automatic – in order to so, the player is taken to a map with dozens of fields that have symbols of different goods randomly assigned to them. The player's goal here is to manipulate the structure in such a way that strings of at least three of the same kind are created. However, contrary to typical match-3 mechanics, creating such combinations does not result in the objects getting removed from the map each and every time. Instead, the player often receives a new, more valuable item. For instance, combining three symbols of grass gives wheat to the player; three wheat symbols reward the player with a carrot, three carrot fields create a pig, and so on.
The developer introduced a massive number of changes and improvements that noticeably enriched the experience. Above all, the player is not in charge of only one town all the time in Puzzle Craft 2. Instead, the action takes place on a large map and the player can take over or establish many towns at the same time. This results in the inflow of additional funding from taxes, but also brings new assignments to be completed. One needs to remember that each place has its own, different environmental circumstances – those have to be taken into account when planning future developments. Some villages should remain relatively small, while it is crucial for success to transform others into lively groupings of population.
Puzzle Craft 2 for AND, iOS and WP expands the list of items and resources substantially, introducing more diversity to the in-game economy. To illustrate, except for chicken, one will find five other species of birds within the category of poultry here. Furthermore, seas were introduced – the player is capable of fishing, but they can also discover new islands and search for treasures.
Similar games:
Age Rating
age requirements: everyone