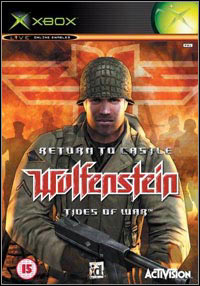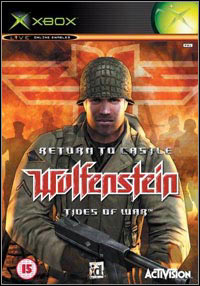 Return to Castle Wolfenstein: Tides of War
XBOX
A first-person shooter belonging to one of the most popular game franchises ever created. The player witnesses an alternative course of the Second World War, in which Hitler struggles to create an army of undead super soldiers. The player is put in the shoes of B.J.
Action | FPP | World War II | FPS | war | Xbox exclusive titles
Return to Castle Wolfenstein: Tides of War

Release Date XBOX

27May2003
developer: id Software publisher: Activision Blizzard Official website

game language: English
An alternative story presented within the framework of the Second World War. Hitler's closest associates carry out research into the creation of super-soldiers at Wolfenstein Castle. This research reveals Hitler's fascination with occultism, the idea of resurrection of the dead (zombies) and genetic modifications of the human body. The Allies' interview informs that Hitler has not finished his work yet, but it is very, very close, and the creation of inhuman beings is already taking place without any major problems. Your name is B.J. Blazkowitz and you undertake the mission of infiltrating the castle and getting rid of the threat, thanks to which the Third Reich has a real chance to win the war.
This is a shooting with a view of the first person (from the eye), the continuator (more by virtue of the title, rather than the plot) of the cult, the first game of this type. A lot of shooting is waiting for the Player, but he will not have to deal with a very fast action. Enemies have quite a lot of intelligence and do not go "under the knife", and the player will also have other means at his disposal than the frontal attack; some of the opponents can be disposed of in a quiet way (e.g. go backwards with a knife in hand), and not less effective. There is also a possibility to use binoculars, thanks to which we can assess how great a threat awaits us nearby. There are 7 missions consisting of 39 levels. Some of them are tasks in which you have to demonstrate the ability to quietly and imperceptibly sneak through the level (elements of steath-action). We will come to use a large arsenal of weapons, which includes real weapons used during the II W.S. (rifles, flame thrower or pistols) as well as modernised equipment straight from science-fiction films. Opponents vary from ordinary soldiers to mutants, skeletons and zombies. Each level hides a large number of secret locations, and finding them is rewarded with bonuses in the form of extra life or ammunition. The game uses modified engine Quake III Arena.
In addition, the Xbox version allows you to play multiplayer games for up to 16 people on the Internet using the Xbox Live system! Or in a local network (link-cable system). It is possible to play in cooperative mode for two Players on one console (split screen option). On the Xbox you can also see an exclusive weapon - shotgun.
Please let us know if you have any comments or suggestions regarding this description.
Game mode: single / multiplayer Multiplayer mode: Internet Player counter: 1-16
User score: 7,9 / 10 based on 66 votes.
PEGI rating Return to Castle Wolfenstein: Tides of War
Return to Castle Wolfenstein: Tides of War System requirements