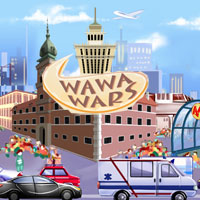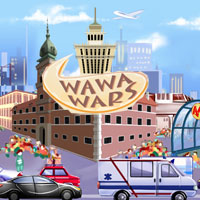 WawaWars
WWW
WawaWars is a MMORPG produced by the Bulgarian development studio XS Software, whose action was set in the realities of the Polish capital. Players take on the role of Warsaw-born citizens or strangers waging a fierce war between them.
RPG | play for free | MMORPG | MMO
WawaWars

Release Date WWW

08March2012
developer: XS Software publisher: XS Software Official website

game language: English
XS Software studio specializes in the production of browser-based MMO games available on a "free to play" basis and based on the business model of microtransactions. After the successes of the KhanWars and Nemexia strategies, Bulgarian developers decided to face the MMORPG genre by preparing a title addressed to players from Poland.
The WawaWars action was set in the capital, where a hidden war between the indigenous and the visitors has been going on for a long time. Both factions try to prove their superiority by not avoiding fight and unclean playing against the competition.
As befits an MMORPG, players create their own avatar and adhere to one of the sides of the conflict. Each character is described by a series of coefficients, taking into account its strength, endurance, agility and charisma. The hero's development is possible by gaining experience points during fights with other players, performing various tasks (e.g. patrolling streets) and performing gainful work.
There are three types of currencies available in the game - money, ore and "wuzetki". The first one allows you to buy standard items (weapons, clothing elements, equipment, animals and others) and to train individual coefficients. Ore, mined in the corridors of the underground, allows you to buy a variety of stimulants and pet food. "Wuzetki" act as a premium currency, available for real money, allowing access to some amenities and special items.
The basis for playing WawaWars is to take part in duels with other players. However, battles are static and in most cases their result can be easily predicted based on the analysis of form factors. The clashes can be watched in the form of flash animations or text, but the player is not able to directly interfere with the course of the clashes.
Traditionally, the game has not lacked extensive social features. Players can connect to gangs and challenge themselves to duels, as well as use internal chat and email. Various rankings of the participants of the game are also updated on an ongoing basis.
In terms of audio-visual binding WawaWars does not differ from the competitive production. Colorful graphics are only decorative in this case, because the gameplay is based on the text layer. The advantage of the game are humorous references to authentic people, places and events connected with the life of the capital.
Please let us know if you have any comments or suggestions regarding this description.
Game mode: massive online multiplayer Multiplayer mode: Internet
Age restrictions WawaWars: Good for all ages.