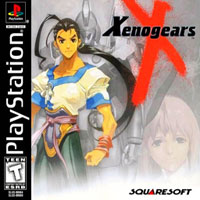 game language: English
game release date for PS1:
11February1998
Mixing science fiction, religious and psychological themes of the Japanese RPG created by masters of the genre from the Squaresoft studio. The production started with the Xeno saga, which currently consists of several productions signed with the titles of Xenosaga and Xenoblade.
Story
Thousands of years ago, the mighty god Deus fell on Earth. The leaders of one of the flying states, Solaris, want to revive it and use it to gain not only absolute power, but also eternal life. The protagonist of Fei Fong Wong becomes an involuntary participant in the long war between the forces of Aveh and Kislev and is accidentally involved in their intrigue. During his long and twisted adventure, he encounters many allies who help him to stop Deus from enslaving all mankind. Presented in Xenogears history is considered to be one of the most complex stories presented in games. The scriptwriters referred, among other things, to numerous theories of psychology, religion and science.
Mechanics
Xenogears is a typical Japanese RPG. A team of heroes led by players explores the world, encountering various characters along the way and performing quests that push the story forward. An important element of the game are random duels with opponents, which take place on the basis of Active Time Battle, which is a system used in other hits of the Japanese studio, such as Chrono Trigger and Final Fantasy. Compared to the above mentioned productions, in Xenogears there are two types of clashes waiting for players, which differ slightly in assumptions. In those with a direct involvement of heroes, the decisive factor is the AP points, which determine the number of attacks. In turn, in battles conducted at the helm of huge combat mosses, gears, their capabilities are determined by fuel reserves. In both types of confrontation, players attack by tapping the appropriate buttons assigned to blows of different strength, each of which requires a different number of AP points (or fuel in the case of machines). Individual strikes can be combined into combinations, the execution of which launches a special attack, the so-called deathblow.
Technical issues
Xenogears is one of the first RPGs to use 3D graphics on PS1. The story is told not only through dialogues and scenes presented on the game engine, but also through impressive CGI animations and anime inserts. Kunihiko Tanaka, a draughtsman, is the author of character and gear designs. Due to the complicated history and difficulties of the topics covered, the title requires a very good command of English.
Please let us know if you have any comments or suggestions regarding this description.
Similar games:
Age Rating
age requirements: 12+