Fallout 3 - Whats Your Brand v.0.2 - Game mod - Download
The file Whats Your Brand v.0.2 is a modification for Fallout 3, a(n) rpg game. Download for free.
file typeGame mod
file size6.9 MB
last updateFriday, September 12, 2014
downloads1942
downloads (7 days)3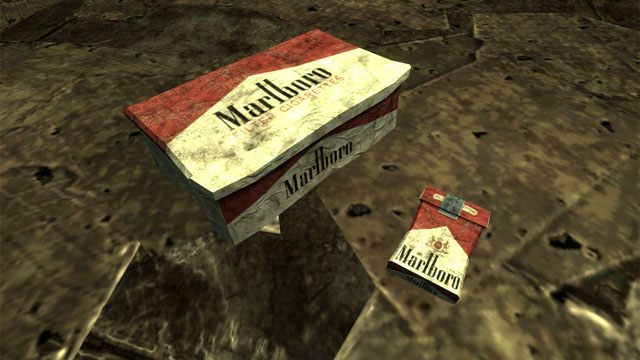 Whats Your Brand is a mod for Fallout 3, created by CptJoker.This mod is a high-resolution retexture of the cigarette pack and cartons, and features a choice between seven meticulously-researched cigarette brands to enhance your gaming pleasure. Five period-correct brands (Old Gold, Camel, Marlboro, and two colors of Lucky Strike) and two alternative brands for those wanting something a little different (Player's Navy Cut and Black Death.)
Installation:
1. Select your choice of brand from the available folders. Unzip the "textures" folder into Fallout 3\Data.
Optional: Move the "textures" folder from the "(Optional) White Cigarette" folder into Fallout 3\Data (if you want white-filter cigs.)
2. Edit your ArchiveInvalidation.txt (or create one in Fallout 3\Data) with these additional lines:
textures/clutter/junk/cigarettecarton.dds
textures/clutter/junk/cigarettecarton_n.dds
textures/clutter/junk/cigarettepack.dds
textures/clutter/junk/cigarettepack_n.dds
textures/clutter/junk/cigarette.dds
3. If you have not yet done so, you must also edit the line in fallout.ini (found in My Documents\My Games\Fallout3) to this:
bInvalidateOlderFiles=1
Report problems with download to support@gamepressure.com