Far Cry 2 - Infamous Fusion v.7x - Game mod - Download
The file Infamous Fusion v.7x is a modification for Far Cry 2, a(n) action game. Download for free.
file typeGame mod
file size35.3 MB
last updateMonday, March 20, 2017
downloads4870
downloads (7 days)20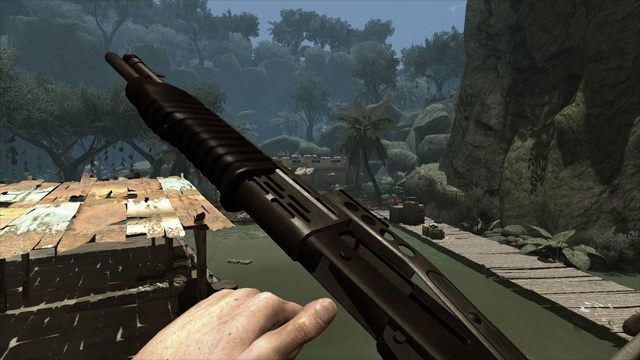 Infamous Fusion is a mod for Far Cry 2, created by dimibyte
Description:
Now game looks more realistic and harder than ever. Prepare to get shot by mercenaries even through metal sheets. In most cases, without cover you will be nothing. Experience unscouted guard posts on the road and an RPG rocket flying at you or mortar, while you're in sniper's position.
Features:
Weapon shop: real weapon names, military equipment, rebalance in prices, convoy missions to get more weapons unlocked;
Military equipment set system - different equipment bonuses (affiliation, ammo);
Weapon's slot, capacity, carried ammo, recoil, field of view tweaks;
Bullet's momentum based on mass and muzzle velocity (now you will not move big tires with pistol shot);
Bullet's damage based on kinetic power, bullet's length, human's and bullet's average density (now enemy can take some shots from Makarov PM in chest, more in legs or hands, but not in head);
Ballistics for rockets, grenade launchers and bolts;
Changed effects for some weapon impacts;
Iron Mode;
Mercenary equipment rebalance, based on real prices and rarity;
DLC weapon's varied distribution for weapon shop's armory all over FC2 world;
Zooming while aiming disabled for Iron Sights weapons;
Stamina and running time have been increased;
No weapon respawn in armory;
Opening sequence and tutorial(tiny) cut;
Full auto for AR;
Durability of all weapons were greatly increased;
Watch (only after visiting safe house for now; there is a stuck bug if it was used before answering the call);
Retexture:
Wood weapons, Dart Rifle, SPAS-12, Desert Eagle, AR, Sawed Off now have another look;
PSO-1 scope;
clean magazine for dropped AR;
For installation instructions consult the readme fle.