Minecraft - Carnivores Resource Pack [128x] - Game mod - Download
The file Carnivores Resource Pack [128x] is a modification for Minecraft, a(n) adventure game. Download for free.
file typeGame mod
file size37 MB
downloads2452
(last 7 days)5
last updateFriday, November 3, 2017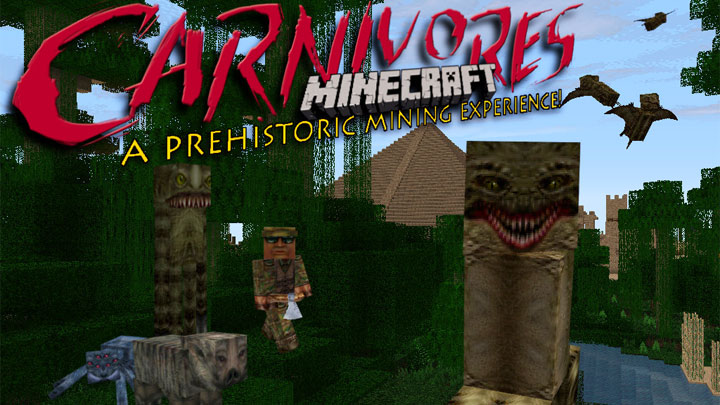 Carnivores Resource Pack [128x] is a mod for Minecraft, created by P.Rex.
Description:
campA Minecraft texture pack based on Carnivores- a game series by Action Forms and Tatem Games. It is a series of hunting simulators where the player has the opportunity to hunt dinosaurs on a far-away planet. This texture pack aims at recreating the Carnivores experience in both appearance and spirit: you are stranded in a prehistoric world. You begin, quite literally, with stone-age weapons and technology. Can you tame the savage world around you, or will the Endersaurus tear your body to shreds?
This an HD pack; for best performance, the latest version of MCPatcher is recommended.
Features:
*All graphics have been replaced with their equivalents from Carnivores, Carnivores 2, Carnivores Ice Age, Carnivores Cityscape and Vivisector: Beast Within.
*Mobs have been reskinned to resemble the iconic creatures of the Carnivores games: bats were replaced with Dimorphodon, the Creepers and Endermen are dinosaurs and the pigs take after their prehistoric Ice Age ancestors.
*All human characters -the zombies, the villagers, the default player skin and more- were reskinned after the iconic hunter, complete with camo fatigues for a better chance at surviving this savage world.
*As of 1.7.2, new sounds from the Carnivores franchise have been added and language files have been updated, turning this texture pack into a full-fledged resource pack.
To install: extract into "%AppData%\.minecraft\resourcepacks" and load through game's menu
Last update: Friday, November 3, 2017
Genre: Adventure
File size: 37 MB