Kingpin: Life of Crime - Catch the Chicken v.1.2 - Game mod - Download
The file Catch the Chicken v.1.2 is a modification for Kingpin: Life of Crime, a(n) action game. Download for free.
file typeGame mod
file size4.3 MB
last updateSunday, March 11, 2018
downloads80
downloads (7 days)3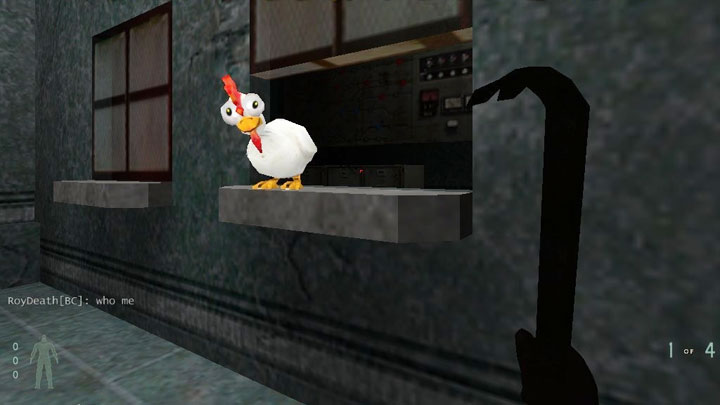 Catch the Chicken is a mod for Kingpin, created by Rat Instinct and his mod team.
Description:
It is a port of the Quake 2 CTC mod.
When the game starts a chicken will spawn in the map. Once the chicken has appeared, the players try to find and "catch" the chicken by running over it. Once you have picked up the chicken, you start scoring points and the other players try to frag you so they can take the chicken. The idea is to hold on to the chicken for as long as you can, until you reach the score limit and you win the game.
While you're holding the chicken you cannot use any weapons. While you are fleeing from other players the chicken you are holding will drop feathers, thus leaving a trail right to your position. The chicken will also make noises while you are holding it and will have a coloured glow.
After the player with the chicken dies, he stops gaining points and he drops the chicken, ready for the next player (or the same player if he finds it first) to catch and score points.
Check the readme for instructions on configuring a server and more information about the mod.
This is the full install for the Kingpin Catch the Chicken V1.1 Mod for Windows. It includes everything you need to run a server or to just connect to one as a client.
Just extract all files to your Kingpin folder and this will place all files in the correct location (Kingpin/ctc).
If you want to run a public server it's recommended that you also use the kpded2 Enhanced Kingpin Server file which is also available here at Gamefront.com
Report problems with download to support@gamepressure.com
Files for Kingpin: Life of Crime