Kingdom Come: Deliverance - Immersive Balance v.1.4 - Game mod - Download
The file Immersive Balance v.1.4 is a modification for Kingdom Come: Deliverance, a(n) rpg game. Download for free.
file typeGame mod
file size136.5 KB
last updateSunday, April 15, 2018
downloads953
downloads (7 days)13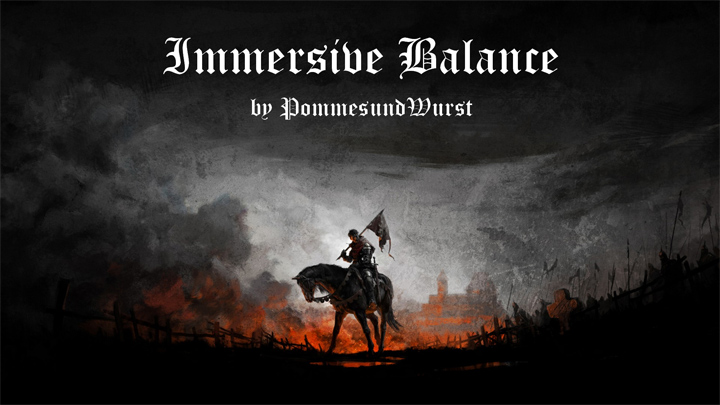 Immersive Balance is a mod for Kingdcom Come: Deliverance, created by pommesUNDwurst (for newest version always visit Nexus)
Description (in author's own words)
This mod drastically improves the game-balance. While aiming for as little change to the core-mechanics as possible and improving on the internal-logic of the systems set in place by Warhorse. Therefore providing a far more immersive experience.
The most important problem that the KCD-Balance faces right now is the sudden difficulty drop by midgame. This has 3 main reasons:
1. Economy
There are far to many ways to cheat the system and accumulate a lot of money early on.
2. Defense
It is far to easy to get your hands on the best armors as soon as you enter the openworld.
And there are basically no penalties for using it.
3. Damage-output
While it takes a little longer for this to have an effect compared to the other two.
There occurs a very sudden spike in damage dealt by the PC with Weaponskills over 10.
Leading to scenarios where midgame bosses can be killed within one strike.
Additionally this mod provides minor changes to Items, game-systems and NPC-AI that go a long way in improving on the consistency of the gameworld.
Best Features and difference to other Mods:
- Suitable independent of ingame progress!
- Equipment and Combos actually matter!
- All playstyles equally viable
- Improvements to item-balance and Economy.
- No Gamebreaking results possible. (atleast not more, than in the vanilla game ;))
- "Perkaholic"-Compatible Version avialable
- Difference to "Dark Times" by sidewayz24 and other Balance-Mods
- More elegent solution to Damageoutput. Dark Times and many others simply limit the max-dmg the PC can deal.
This leads to every higher Tier Weapon essentially being the same. No matter the Weaponclass or type
an Endgame-Character will deal 100dmg everytime. This doesn't happen here.
It is achieved through calculated changes to the Items, leading to improvements in Dmg-Defense-ratio / Weight / Stamina-handling
- The most important changes in "Dark Times" are also implemented here in one form ore another.
While The mod of sidewayz24 introduces far more changes to the system that at the time are simply unbalanced in itself or don't work as
intended. Although this will probably change at some point, when it leaves Beta since the author is a really dedicated modder.
If you encounter any trouble nontheless, have additional ideas or requests for adjustments feel free to leave a post.
Installation:
1. Download
2. Extract the contents of the .rar file into your "Data" folder
(default: C:\Program Files (x86)\Steam\steamapps\common\KingdomComeDeliverance\Data)
Report problems with download to support@gamepressure.com
see more
Popular files for Kingdom Come: Deliverance