Star Citizen - User Config Tweaker v.2.01 - Game mod - Download
The file User Config Tweaker v.2.01 is a modification for Star Citizen, a(n) simulation game. Download for free.
file typeGame mod
file size17.4 KB
downloads1056
(last 7 days)7
last updateMonday, April 2, 2018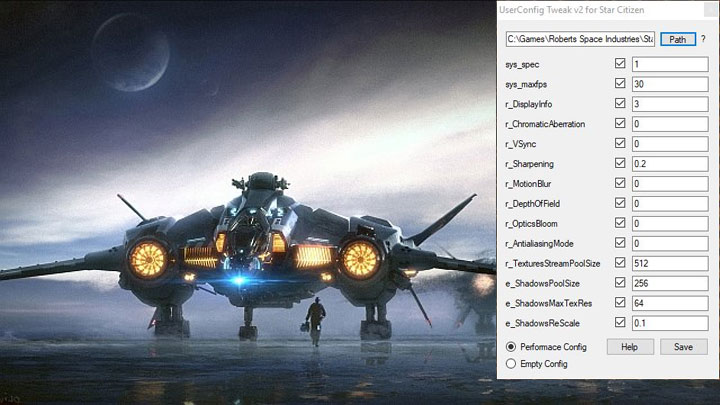 User Config Tweaker is a tool for Star Citizen, created by triplex2011.
Description (in author's own words):
This is a little Tweak Tool to Edit the user.cfg to get more performance.
The default values of this Tool are low end PC performance Tweak values inspirated by a forum post by Mazer Rackham in the Modding Section.
But you can also set your own values (just select "Empty Config" at the lower left).
By the way - this tool is not required if you get enough fps with the in game settings.
Usage:
Start it, set the Path to the Star Citizen / "LIVE" folder by choosing the "Path" Button, the low end value tweaks are already loaded, if you click on "Save" this values will be saved to the specified location.
With the checkboxes you can enable / disable sections you wish to be in your config.
If you first time play the game with the new config you might notice that the loading time and performance is not very well, just run around a little bit, close the game and restart it, now it should be fast.
Note:
Currently the Tool do not load a existing user.cfg, the Tool will overwrite / create it.
View FPS:
If you dont like the FPS Display in Game with this tweaks go to "r_DisplayInfo" and set the value to 1
Remove:
To remove the tweaks go to your LIVE Folder inside your Star Citizen Folder and delete the user.cfg
The Tweaktool is written by triplex2011 / zeittresor.de
I have have nothing to do with RSI/Cloud Imperium Games.
This is a fun and freeware project by a fan for "Star Citizen by Cloud Imperium Games".
Instructions:
Extract into game's main folder and run SimpleTweak_for_SCit.exe.
Last update: Monday, April 2, 2018
Genre: Simulation
File size: 17.4 KB