Kingdom Come: Deliverance - Blood and Iron Overhaul Lite v.1.5 - Game mod - Download
The file Blood and Iron Overhaul Lite v.1.5 is a modification for Kingdom Come: Deliverance, a(n) rpg game. Download for free.
file typeGame mod
file size4.2 KB
last updateWednesday, December 5, 2018
downloads428
downloads (7 days)6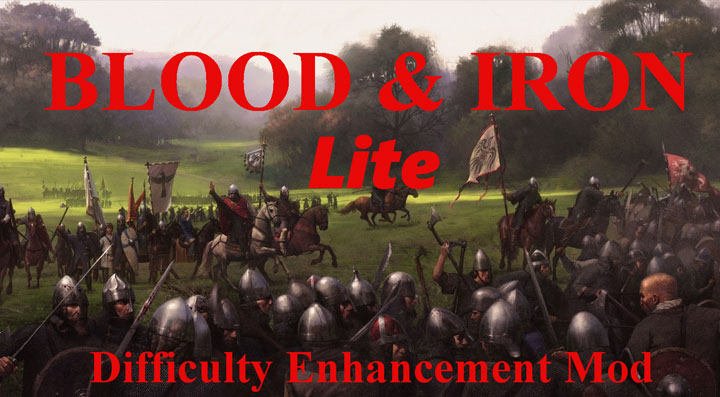 Blood and Iron Overhaul Lite is a mod for Kingdom Come: Deliverance, created by AJStoner.
Description (in author's own words):
This mod represents my ongoing attempt to make combat in the mid to late game more challenging in a light-weight mod that maintains maximum compatibility with other mods.
Blood and Iron is meant to increase the game's challenge. It can be used stand-alone or combined with other mods that also increase game difficulty such as Dark Times, Immersive Balance, IMFB, KCD Combat Rebalance, Knoxogoshi's Ultimate Realism Overhaul (my personal reccomendation) or whatever you choose.
It only modifies two files but they are important ones, common to most such mods. It is a bit harsher than the mods listed above and so, when used in conjunction with them, will kick up the difficulty another notch.
*Stamina costs are increased
*Stamina regeneration is reduced
*Damage scaling from Strength and Agility significantly reduced
*Skill advancement slowed down
*Window for perfect block and riposte narrowed
*Enemies are more aggressive, especially in groups
*Greater movement restrictions in heavy armor
*Sneaking is harder in heavier armor
*NPC's field of vision is now more realistic
Additional Effects:
*Stay clean a far more reasonable amount of time after washing or visiting a bath house
*Item condition affects resale value
INSTALATION:
*If you do not already have one, create a folder in your main game folder called "Mods"
*Extract this mod in the Mods folder, NOT the Data folder
Merging with other mods: This mod has been named so as to load late in the mod order but when using a mod merger, make sure to give priority to this mod's file versions.
Report problems with download to support@gamepressure.com
see more
Popular files for Kingdom Come: Deliverance