Terraria - The Legend of Zelda - A Link to Terraria v.4.0.2 - Game mod - Download
The file The Legend of Zelda - A Link to Terraria v.4.0.2 is a modification for Terraria, a(n) arcade game. Download for free.
file typeGame mod
file size377.8 KB
last updateMonday, May 18, 2020
downloads102
downloads (7 days)58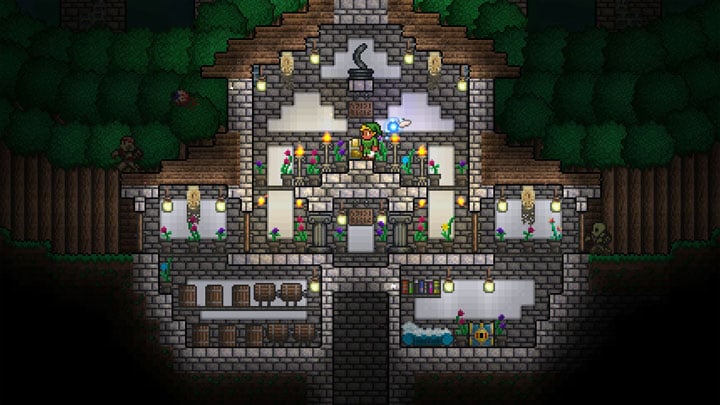 The Legend of Zelda - A Link to Terraria is a mod for Terraria, created by ahamling27.
Description:
Here it is folks! The long awaited update to my Zelda adventure map! More than just an update, it's no longer inspired by Zelda, it IS a stand alone Zelda adventure map! Play as Link and fight your way through nine dungeons. Bring peace back to the land of Hyrule and save the princess Zelda!
Rules
Create a new character and throw away your starting items when you enter the adventure map.
You can only buy ammo, potions and throwable items like shurikens from the vendors.
Player 1 should always grab the chest from the bottom center when 4 chests are in a triangle.
If there are two or more signs next to each other, always read left to right. Golden Tombstones are used as signs.
Items dropped from bosses can be used.
Weapons dropped from enemies can be used, examples are a Slime Staff or a Bone Sword. Consider yourself lucky! :)
If rope drops, please don't use them, as they can be used to break progression.
Do not take the clothes off mannequins.
Collect Fallen Stars to make Mana Crystals to gain more mana.
No breaking blocks, except in Gannondorf's Lair with the explosives given, but you will need to place blocks to proceed after defeating the Eye of Cthulhu.
Multiplayer
Up to 4 players can coop through the adventure!
The rules are the same as the single player rules.
Install
To install the world, simply drag and drop (or copy and paste) the 'A Link to Terraria 3.0.wld' file inside the zip into "C:\Users\*YOURUSERNAME*\Documents\My Games\Terraria\Worlds". Launch the game and look for 'A Link to Terraria'.
Files for Terraria