Wolfenstein 3D - DIE, HIMMLER, DIE! - ECWolf Port - Game mod - Download
The file DIE, HIMMLER, DIE! - ECWolf Port is a modification for Wolfenstein 3D, a(n) action game. Download for free.
file typeGame mod
file size2 MB
last updateTuesday, May 19, 2020
downloads30
downloads (7 days)18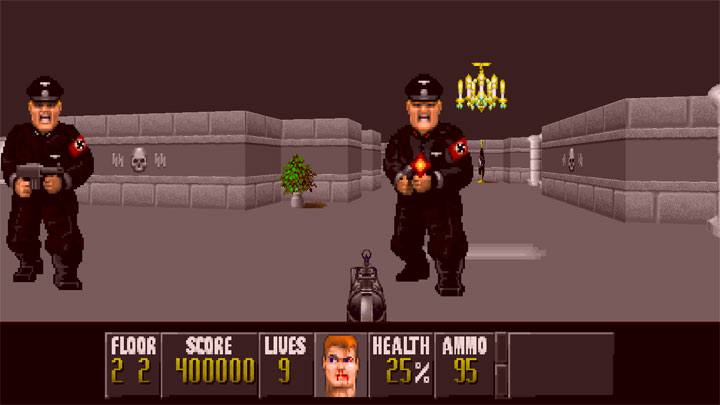 DIE, HIMMLER, DIE! - ECWolf Port is a mod for†Wolfenstein 3D, created by †AstroCreep.
Description (in authorís own words):
Port of "DIE, HIMMLER, DIE!" to ECWolf. Requires Wolfenstein 3D 1.4 and the latest dev version of ECWolf.
"TO BIG BAD WOLF DE LITTLE RED RIDING HOOD... ELIMINATE HIMMLER... IMPERATIVE... COMPLETE MISSION WITHIN 24 HOURS... OUT."
That's what the message you received from Allied Command said after you decoded it. It was delivered by a French courier an hour ago, along with a map and coordinates of Himmler's last known location. Chances are the SS chief has already moved from there, but the trail is still hot enough for you to follow it if you don't waste any time.
For years, SS and Gestapo blackshirts have terrorized all of Europe, crushing millions under their marching jackboots. Now the time has come to cut off the head of the snake -- namely, Reichsfuhrer-SS Heinrich Himmler. And you've got twenty-three hours left to do it. Will it be enough?
This is a port of Laz Rojas' Mac Wolf3D scenario "Die, Himmler, Die!" to ECPort. Aside from packaging up this mod and adding the missing sounds, this also makes the mod work with the PC Wolfenstein files, rather than the Mac files.
DIFFERENCES FROM ORIGINAL
Menu graphics by Laz Rojas, adapted by AstroCreep
Includes fonts from Tech Demo by Executor
includes imf macwolf songs by Andy_Nonymous
Weapons re-ported by AstroCreep from original sources (Rise of the Triad, WolfenDOOM)
Sounds from second resource left out, kind of pointless, with exception of final boss, but schmeh.
This is only a temporary build, as this is designed for the crippled version currently
being run by the dev versions of ECWolf. As such, this WILL NOT WORK with the official releases yet, only the dev versions
which support MacWolf. Dev versions can be found at Devbuilds.drdteam.org
This also includes a modified Die Himmler Die mod needed to run this fix, already
MacBinary'd up.
TO RUN:
Extract ZIP file
Drag and drop "himmler_data.bin" and "himmler_fix_PC.pk3" onto the ecwolf executable
OR
run "ecwolf --file himmler_data.bin himmler_fix_PC.pk3"
CREDITS -
Wolfenstein 3D by iD Software
Mac version by iD Software and MacPlay
"Die, Himmler, Die!" originally by Laz Rojas
Fix by AstroCreep
Extra resources from Wolfenstein 3D (PC and Mac versions)
To run this use LZWolf or ECWolf.
see more
Popular files for Wolfenstein 3D