Mafia II - Mafia 2 DLC Friends for Life v.2.22.20 - Game mod - Download
The file Mafia 2 DLC Friends for Life v.2.22.20 is a modification for Mafia II, a(n) action game. Download for free.
file typeGame mod
file size1200.1 MB
downloads19586
(last 7 days)203
last updateWednesday, October 28, 2020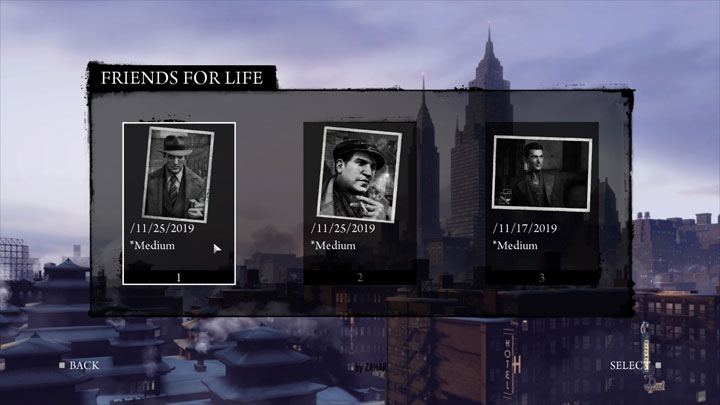 Mafia 2 DLC Friends for Life to is mod for Mafia II (the original one, not Definitive Edition), created by zahar999/Modded Games. Be sure also check out Mafia Game Videos, which is this mod's creator YouTube channel.
Description (in author's own words):
Independent DLC Friends for Life. The mod introduces a lot of possibilities into the game: it activates the free roam mode, opens new locations, adds bodyguards, allows you to change the weather, turn on invulnerability, gives you access to player animation and control of the car's speed.
NOTE THIS IS CURRENTLY FOR MAFIA 2 CLASSIC ONLY (not Mafia II: Definitive Edition)
2/22/20 Update
Mod author zahar999 (MrSergey1940) has updated the mod. New update includes the following:
Car Dealership? You can now purchase cars at the dealership. Must install Epilog mod for this option?
License to Carry (LTC)?? Buy a gun license from "Giuseppe". When confronted by a police officer for carrying a weapon in public, their will be a third option (LTC). When pressed you will show the officer your "LTC". Note after using the LTC three times in a row - the license is canceled (buy it again). Must install Epilog mod for this option?
Capabilities:
Free Roam (summer of the 50s / winter of the 40s);
11 bodyguards (Joe, Henry, Eddie, Tony, Marty, Steve, Corporal, Williams, Derek, Marco, Jimmy);
6 houses (in all houses, except the mother's house, you can sleep and change the weather);
In homes in Greenfield and Uptown, you can take a shower and go to the toilet;
Added weapons MG42;
Added melee weapons (police baton, baseball bat, knife);
Animation of opening doors in homes and garages;
All car repair shops and car washes are open;
Options Menu:
Change skin
Police (turn on or off)
Invulnerability (enable or disable)
Settings - change the weather
badge ® - take off the hat
Animation Menu:
"Take items" - 4 options (suitcase / bag / case / umbrella)
"Change" - 5 gait options
"Cancel" - return to standard
"Sit down" - 2 options
"Wash" - sweeping the floor
"Digging" - 2 options (coal in summer / snow in winter)
"A" - send mail
"B" - 2 options (in summer to fish / fall in winter, sneeze)
"C" - write to notebook
Scraper
Phone
Car menu:
ability to change wheels and camera
favorite car - repair, cleaning, refueling, off, does not explode
maximum speed:
1 - 150 mph
2 - 300 mph
3 - 500 mph
Open locations:
Yacht Club, Supermarket, Printing House, Bordello (old / new), M Hotel, Metro, Prison, Vinci Mansion, Galante House, Observatory, Bruno Office, Misery Lane, Distillery, Maria Anyello, Herb Empire Hotel, apartment on River Street, Car dealer, Seafood, Foundry, Slaughterhouse, West Side Mall, Price office, Construction site, Derek's office, Port, Car service Charlie (check-in from South Millville, you can sell a car), Chinese restaurant
Important: the mod will not work on the steam version of the game without the Update 5 (dlc folder patch) installed.
Updated as of August 25, 2017
Posted by: zahar999
Thanks! - y.u.s.i.k
FAQ
---> Have Steam version and Mafia II not launching?
Do not launch the game from Steam. Launch Mafia II from C:\Program Files (x86)\Steam\steamapps\common\Mafia II and make a new desktop shortcut (delete old one).
---> I have the Steam version of the game and it tells me that the dlc Free Ride is installed, but not purchased?
That means you didn't install the "update5" folder (dlc folder patch).
---> I installed the "update5" but my game keeps loading?
The game shouldn't load more than 30 seconds. Make sure you installed ALL mod files and create a new desktop shortcut from the mafia2.exe
Installation
Warning: As with any mod, backup your saved data just in case
Save location: C:\Users\YourUsername\AppData\Local\2K Games\Mafia II
1. Open the "update5" folder and copy the "pc" folder then paste to your Mafia II game directory. Replace when asked
2. Open the "Friends for Life" folder and copy the "edit" and "pc" folders then paste to your Mafia 2 game directory (C:\Program Files (x86)\Steam\steamapps\common\Mafia II) Replace when asked
More information
MG42
if the sound of shots disappears - save, exit the game and log in again
if upon arrest the opportunity to shoot from MG42 disappears 0 | 250
throw off your weapon again and be sure to raise it again
Melee weapons
if the player holds the melee incorrectly
change to a firearm and then get melee
Bodyguards
if the voices of the bodyguards disappear, give them the Wait / Follow commands
Phone
if dialogs disappear - set the bodyguards to Wait
if the "Call" feature appears in the main Mafia II game, do not use this function
in the "Telephone Services" option, click Off.
Winter-Summer Crossing (Hillwood House on the balcony)
if grass disappears - save, exit the game and log in again
Vinci Mansion
if the textures did not load correctly
leave the location, leave the area, save, exit the game, log in again and visit the mansion
Galante Mansion
drive to the house from the Uptown side; otherwise, loading will fail loading
URC
do not bring bodyguards with you, they immediately start an attack
if after leaving the map navigation remains, do not save
replay from last save
Free ride
if bodyguards on cars are behind you do not wait for them they will catch you
Female
select a female skin (option Mafia)
You can change gait, objects, clothes in the closet, wash in the shower, call
Flashlight
press number 1 -> empty hands -> scraper -> empty hands -> flashlight
Dog
in the "dogs" folder rename the file "dog_.sds" to "dog.sds"
a dog will appear near the houses, but perhaps when saved it creates a conflict
at any time, turn it off by renaming the file
Joe's house
You can use the car selection menu in 2 garages
be careful! the "open gate" and "open garage" buttons sometimes intersect
Maltese Falcon Bar
on the 2nd floor you can watch the video when Vito was taken to the mafia
Radio
additional radio station "President" you can create your own playlist
files must be in .fsb format
copy to the folder ... \ radio (names song1 - song10)
Police On / - the police will be in all (cafes, shops, gas stations, ...)
after the robbery, closed (cafes, shops, gas stations, ...) restores conservation
all clothes from all flower shops for Vito, Joe and Jimmy
play as Vito and in the houses in the closet there will be all clothes of all colors for Vito
select Joe's skin and in the houses in the closet there will be all clothes of all colors for Joe
select Jimmy's skin (option Mafia) and in the houses in the closet there will be all clothes of all colors for Jimmy
real door opening - "Giuseppe", Bar 'At Freddy's', "Mona Lisa"
opening the gate without leaving the car - "Slaughterhouse", "Parking"
63 weather options (for summer) 23 weather options (for winter) - thanks eXistenZ34 !!!
car shooting available in DLC
install from the archive the file "tables.sds" -> Mafia II \ pc \ sds \ tables
get into a passenger car with a driver (get / use a weapon)
Last update: Wednesday, October 28, 2020
Genre: Action
File size: 1200.1 MB
Files for Mafia II