Fallout 4 - Marked for Termination - A Terminator-Inspired Manhunt in the Commonwealth v.3.2 - Game mod - Download
The file Marked for Termination - A Terminator-Inspired Manhunt in the Commonwealth v.3.2 is a modification for Fallout 4, a(n) rpg game. Download for free.
file typeGame mod
file size54.6 MB
last updateWednesday, April 7, 2021
downloads37
downloads (7 days)25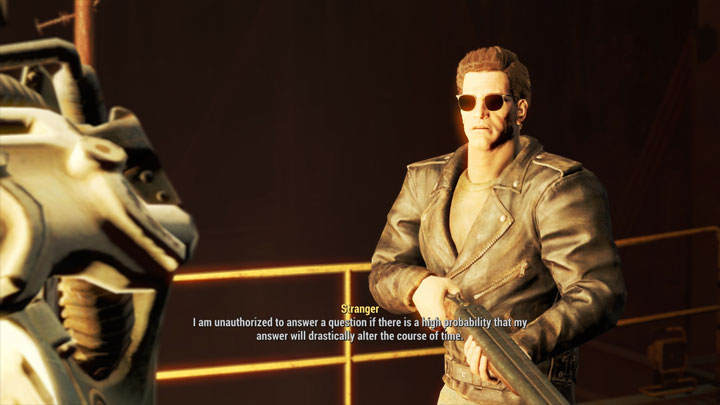 Marked for Termination - A Terminator-Inspired Manhunt in the Commonwealth is a mod for Fallout 4, created by Toro Montana. B e sure to also check out the creator's YouTube channel.
Descrioption:
In the future the Sole Survivor of Vault 111, you, will lead mankind in a war against a malevolent artificial intelligence programmed to enslave the world. From this dark future two machines have been sent back, one to kill you, the other to protect you. Live or die... war never changes.
Introduction
This mod is inspired by the Terminator series and adds two cyborgs from the future, Gen-5 synths, into the game world of Fallout 4. They arrive when you reach level 10+. What began as a minor tweak is now a fully fledged action packed mod. One cyborg is the bad guy, it will attempt to track you down no matter where you go in the Commonwealth and attempt to kill you. It is nearly indestructible, your goal is to escape its wrath and survive. When not in combat, the cyborg travels the map at walking speed to make evading it feasible.
We say nearly indestructible because there are actually three ways to permanently kill it:
1. a direct hit from a mini nuke
2. freezing it with any Cryo weapon
3. forcing it into one of the large vats of molten steel at Saugus Ironworks
You can craft a free holotape at any chem station which you can use the customize the mod including raising the difficulty level much much higher. At the last difficulty level you will only be able to kill the Gen-5 assassin at Saugus Ironworks and some of his stronger weapons will be able to kill even most essential or protected NPCs, including settlers and most quest givers. Beware!
The other cyborg is a permanent 100% loyal companion and protector. It will act as a secondary companion so you don't need to dismiss the companion you had before. You can trade gear with it, give it better weapons, make it carry junk, but you can't give it specific instructions or dismiss it, at least not while the bad guy lives. Like other companions, this cyborg cannot be killed and will repair itself even if essential tags are disabled. Unlike other companions though, it has no affinity, doesn't care if you're good or bad, and will never betray you.
The mod features fully voiced dialog now.
This isn't a very long quest mod, it's mostly for fun, mayhem and putting you on constant alert while giving you a cool companion. There will be a couple of quest logs to guide you, but don't expect a very long quest chain. There is no new map nor a final showdown with the evil AI that sent the assassin after you. If you're looking for a total conversion type of mod, this may not be for you.
Instructions:
Use Mod Manager. Alternatively extract into game's main folder. Activate the mod through your preferred launcher by ticking the checkbox next to the esp.
Last update: Wednesday, April 7, 2021
Genre: RPG
File size: 54.6 MB