Duke Nukem 3D - Submachine v.1.0 - Game mod - Download
The file Submachine v.1.0 is a modification for Duke Nukem 3D, a(n) action game. Download for free.
file typeGame mod
file size10 MB
downloads21
(last 7 days)3
last updateTuesday, May 4, 2021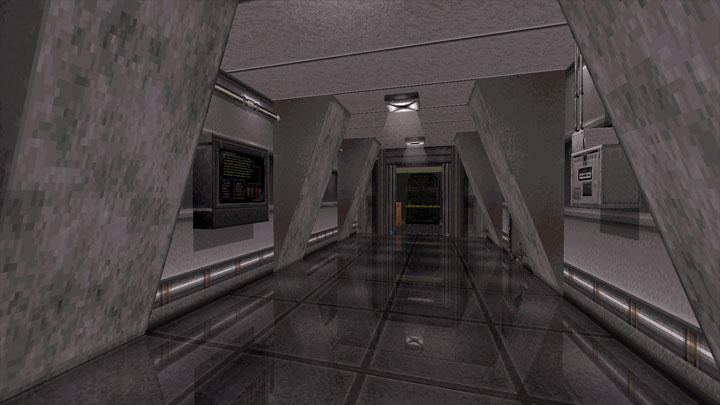 Submachine is a mod for†Duke Nukem 3D, created by Ledsbourne
Description (in authorís own words):
A new map for Duke Nukem 3D (requiring EDuke32) with a hi-tech theme. The map will mostly focus on solving puzzles, clever minigames, unlinear gameplay progression and lots of secrets to explore, thus requiring the player to think logically rather than just rely on their reflexes and combat skills. The map will not use any new assets (graphics, sounds or modified CON files) besides new music, as one of my goals is to push the original game and Build engine up to the limits of feasible effects.
Story: Duke is visiting a brand new Earth Defence Forces facility that is still partly under construction. The main focus of this massive structure is harvesting, processing and research of green crystals used in shrinker (which are called Terratin crystals) and their unique capabilities. Being the world's most reknowned expert on shrinker usage, Duke is to inspect the laboratories and mines... However, as he is about to descent, a strange explosion happens - indicating that he will have some more serious job to do here!
The map is divided into different section labelled A, B and C as well as underground tunnels, caves and hubs. Your goal will be to clear the facility of any hostile presence and make your way back to the surface, after a strongly non-linear gameplay with different choices to make, shortcuts and interconnections, puzzles and minigames.
The name of the map is a tribute to Submachine series by Mateusz Skutnik, an awesome point and click games with immersive world and elaborate story, requiring logical thinking from its players. The map's concept was partially inspired by Submachine games, even if Duke and Build engine are made for totally different purposes and mechanics.
Instructions:
Run with EDuke32. For more info consult the included readme file.
Last update: Tuesday, May 4, 2021
Genre: Action
File size: 10 MB
see more
Popular files for Duke Nukem 3D