Cyberpunk 2077 - Redscript v.0.5.1 - Game mod - Download
The file Redscript v.0.5.1 is a modification for Cyberpunk 2077, a(n) rpg game. Download for free.
file typeGame mod
file size603.9 KB
downloads1331
(last 7 days)33
last updateWednesday, March 2, 2022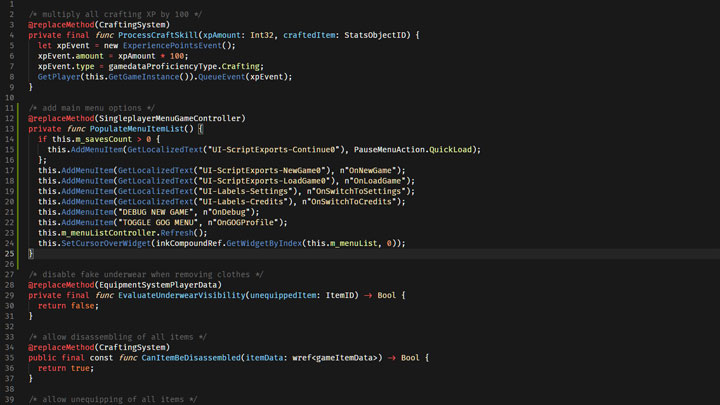 Redscript is a mod for Cyberpunk 2077, creatd by jac3km4
Descripotion:
Compiler for Cyberpunk2077 scripts. It can be integrated with the game and used to add/replace game scripts.
Bassicaly it's a tool that is required by some of the more advanced mods.
MPORTANT NOTICE
The newly released version of the compiler ships with an exclusion list of mods that no longer work, so that you as a user do not have to worry about your game being broken, since the mods will just be ignored.
I'd urge mod authors to resolve any compile errors in their mods and after fixing their mods, notify users to remove their mods from the exclusion list located at:
Instructions:
Download Redscript?
Unzip the "scc.exe" file in "Cyberpunk 2077/engine/tools" (if the folder doesn't exists, create it)
Unzip the "scripts.ini" file "Cyberpunk 2077/engine/config/base" (if the folder doesn't exists, create it)
Last update: Wednesday, March 2, 2022
Genre: RPG
File size: 603.9 KB
see more
Popular files for Cyberpunk 2077