Mass Effect: Legendary Edition - MELE ME3 Care Package v.1.0 - Game mod - Download
The file MELE ME3 Care Package v.1.0 is a modification for Mass Effect: Legendary Edition, a(n) rpg game. Download for free.
file typeGame mod
file size4.3 MB
downloads115
(last 7 days)7
last updateFriday, August 20, 2021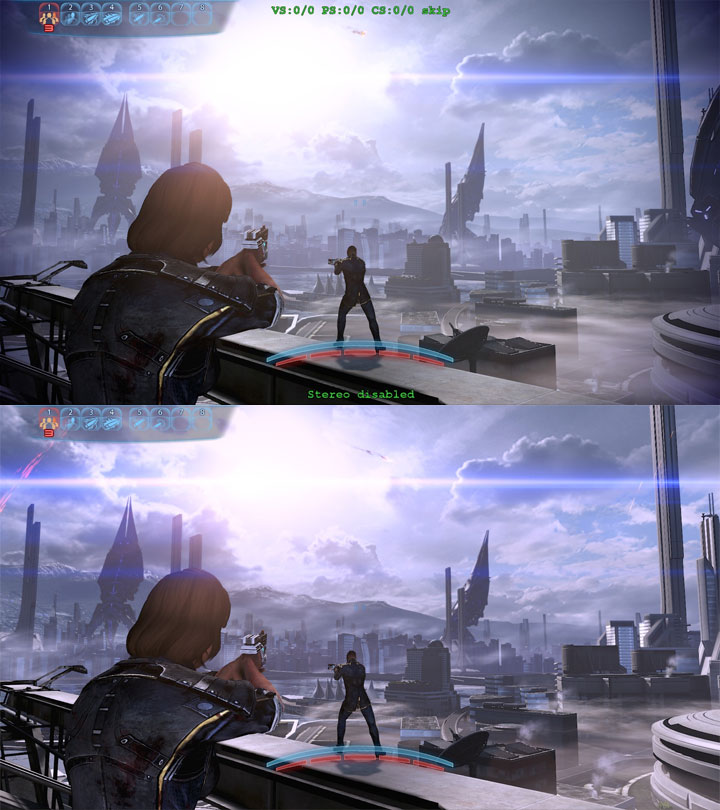 Vanilla on top, modded on the bottom. Take note on much more subtle fog effect and better visibility.
MELE ME3 Care Package is a mod for Mass Effect 3: Legendary Edition, created by thrive4.
Description:
For mass effect 3 the legendary edition.
Here are some tweaks with 3dmigoto and reshade to try
to alleviate the excessive darkness in the game and
some other visual issues.
shader tweaks with 3dmigoto:
- reduce distance fog cities
- reduce fog banks nearby
- glare and refelection windows exterior
- large glowing orbs reduce radius
- hud remove object selector, doors, etc
- reduce vignette, black crush shadows and bloom
- reduce fog and haze exterior citadel, mars etc
- shepard hair less glossy
- remove vignette blood effect wounded shepard final act
reshade:
desaturate and increase light,
very slight relief mapping for textures and
smaa (so disable in game AA)
*note in game use shift-f2 for reshade menu
An option B of this package contains *only* shaderfixes
please use this version if you do not like the reshade tweaks.
- install
Copy the contents of the zip file to the install folder of,
mass effect legendary edition\Game\ME3\Binaries\Win64\
the folder which contains MassEffect3.exe.
- optional install
If you do not like using unverified dll's you can:
Download reshade from:
https://reshade.me/
install *only* dxgi.dll (64bits) 4.3.0 to the install dir aka folder of me3.
Then copy the reshade folder plus ReShade.ini and dxgi.ini
from the package, to the install folder of the game (me3).
Download 3dmigoto from:
https://github.com/bo3b/3Dmigoto/releases
download version 1.3.16.0 (64bit) and place
the following dlls in the install dir of me3
d3d11.dll
d3dcompiler_46.dll
d3dx.ini
then copy ShaderCache and ShaderFixes from the zip file to the same dir aka folder.
Last update: Friday, August 20, 2021
Genre: RPG
File size: 4.3 MB
see more
Popular files for Mass Effect: Legendary Edition