Game review
20 September 2023, 17:00
Cyberpunk 2077 Disappointed, but Phantom Liberty Delights. A Touching Farewell by Spy Thriller
I'm not a big fan of Cyberpunk 2077, but Phantom Liberty totally stole my heart. It has a great plot, great emotions, and is really memorable. That said, it's just average in terms of gameplay.
Welcome to Night City – again and for the last time, at least in Cyberpunk 2077. I thought I wouldn't really miss it, because the linearity of the story in the base game was too much for me to bear, but after such a great expansion as Phantom Liberty, I started feeling a certain sadness. I would like another story about how human beings rush along the gloomy path of the future, and even if we can help them, we'll never get the perfect rescue leading to a happy ever after.
PROS:
A touching, deeply moving story
Multi-dimension characters
Johnny Silverhand as a commentator is fun as ever
Engaging, original side content
Different endings, which can also influence the story of V
Choices without perfect outcomes
Dogtown is alive – you can hear it and feel it
CONS:
Easy gameplay without much challenge
I'm Kurt Russell in Night City
The beginnings of Phantom Liberty remind me of classic action movies with the Expendables' cast back in their prime. We have to extract the president from a dangerous territory after her plane is downed there. Rings any bells? Because I immediately associated it with Escape from New York starring Kurt Russell.
And I felt just like Russell in the first minutes of the expansion. For the glory of NUSA, the New United States, I migrated from the turf of mercenaries to the world of secret agents. I'm wreaking havoc like Rambo or another Schwarzenegger and somewhere along the way, a theme straight from Mission: Impossible starts playing. This wasn't a bad thing, but this arrangement of the storyline gave me the impression that there's little Cyberpunk in Phantom Liberty. Particularly since I'm not a fan of sneaking and I prefer solving problems in a straightforward manner, in which I was basically a one-man army.
However, this is a problem related to the gameplay. The difficulty level is quite low, which personally didn't bother me (the storyline experiences are more relevant to me), but challenge seekers may be unsatisfied. Especially since CD Projekt RED in the expansions for The Witcher 3 was able to positively surprise us with an epic and extremely difficult fight (with Dettlaff) or unique puzzles (when we had to outsmart Gaunter O'Dimm). Phantom Liberty doesn't offer similarly puzzles or fights.
In the final stages, the only difficulty was the growing number of enemies advancing on me. However, after the changes introduced since the premiere of the basic game, even then patience is enough - we lose life, so it's enough to just withdraw for a moment and use the health kit, which has only a time limit. I wasn't particularly excited about gaining a new level of experience, because I had already developed my character in the way I wanted to, and the new development tree wasn't very useful.
Don't cry tonight
As I mentioned - I don't expect too much from the gameplay, although I wouldn't mind an epic fight with an android on the rooftop, where the rain mixes with tears. It's important to play comfortably and let no errors interfere with our gameplay. From a technical point of view, however, I cannot complain - only sometimes the scrolling of dialogues was defective. So let's get back to the most important component of Phantom Liberty – i.e. the story.
The Cyberpunk 2077 expansion really got me at one point – I became emotionally involved in the fate of the new characters and for some of them, my V was ready to leap into fire. In around the 20 hours that Phantom Liberty takes to complete, CD Projekt RED moves from spectacular action to intriguing spy thriller to end with a beautiful, moving story about dreams and the forging of human characters. We get characters entangled in a clandestine struggle, forced to abandon their personal desires, even sacrificing their lives for it.
Those themes were executed brilliantly – in intimate conversations and emotional shots when we're anxious about the fate of people who may not give a damn about us, and yet we'd still die for them. Why? The answer I found relevant is contained in Herman Melville's Moby Dick, where he wrote about how painful it is to watch another person's heroism be ruined. Thinking of Phantom Liberty, I'm brought back to this reflection, because in Reed or Sonbird I detect noble beings, who were put on the scales of a patriotic mission "for the glory of the homeland," which at the same time is devastating each of the two.
Cursed city full of small episodes
Dogtown is not filled with empty content – each traditional quest and contract hides something of interest. A story worthy of Quentin Tarantino, which enjoys escalating a single issue and using it to build a dramatic turn of events. In one moment, we're scouting the birthplace of future sports stars; the next, we're facing identity crises.
This makes quests really appealing and engaging. And even when accompanied by humor – characters with lots of expression and coarse language talking about their problems – we will usually find some sort of tragedy as well. It's like a dystopian life dramedy. Even if something seems funny (especially Johnny Silverhand's offhand comments), it's not hard to notice it's all about rather serious stuff. Moreover, the dialogues between NPCs are also notable, making the city feel more alive.
VERDICT:
It was a long road for CD Projekt RED from the botched launch of Cyberpunk 2077 to the game it has become with Phantom Liberty – and although the road was bumpy, the light at the end of the tunnel was real after all. The only expansion this game will receive has a fantastic storyline, plenty of feels, entertainment, joy, and technical bells and whistles.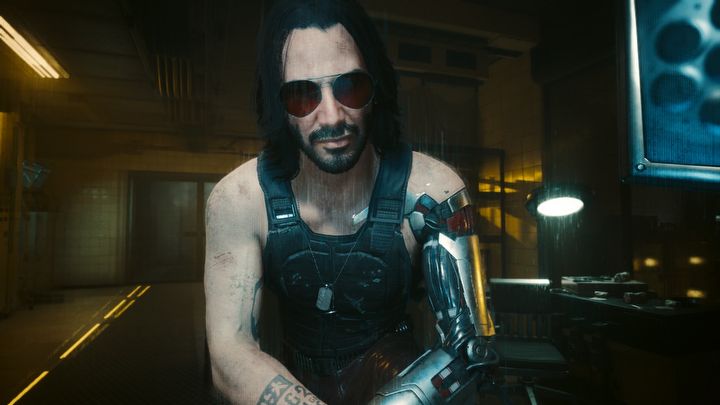 Johnny is as cool to have in your head as always.Cyberpunk 2077: Phantom Liberty, CD ProjektRED, 2023
The game expectedly presents us with decisions to make, though they are at first more related to side content, because there, the consequences don't generate far-reaching repercussions. There's no such thing as the perfect ending, too, so we always end up evaluating the choices we have primarily according to our own character. Over time, nonlinearity also applies to the main thread – the developers have prepared several satisfying endings, which can affect the story of V itself. This is welcome, because one of the concerns before the release of this expansion was that it could be completely separate from the protagonist's personal storyline.
It was a long road for CD Projekt RED from the botched launch of Cyberpunk 2077 to the game it has become with Phantom Liberty – and although the road was bumpy, the light at the end of the tunnel was real after all. The only expansion this game will recieve has a fantastic storyline, plenty of feels, entertainment, joy, and technical bells and whistles. This success of the Polish studio is a victory of reliable work and true passion for telling captivating stories, which they prove once again. The farewell to Cyberpunk 2077 is better than I ever dared to dream.
Krzysztof Lewandowski | Gamepressure.com