Movies & Series
04 January 2022, 14:27
The Best New Movies of 2021
Below, we present a list of titles which, in our opinion, will be remembered after 2021.
Druk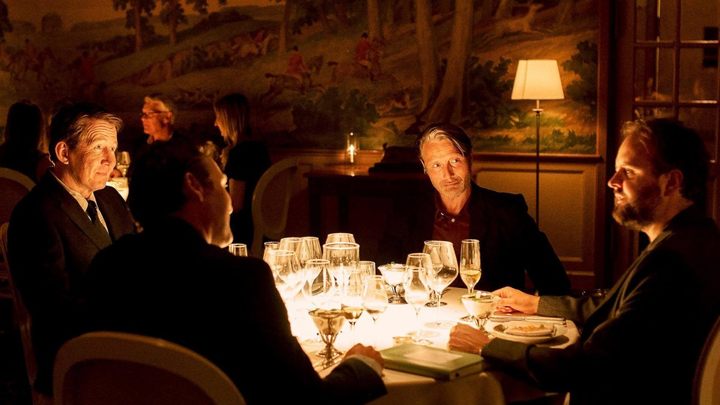 Genre: Danish comedy-drama under influence
Director: Thomas Vinterberg
Where to watch: Theatres
Druk is a movie about drinking – this inaccurate statement is very commonly used in reference to Thomas Vinterberg's movie. First of all, it is a film about midlife crisis and an attempt to find yourself in the midst of your own life. The atmosphere during the screening is bittersweet – after all, we all chase the same idea. When we grow up, we want to put together the puzzle of our youth to formulate a backdrop for our older selves. What happens, when we succeed?
In Vinterberg's film, we meet four teachers who found themselves at this particular point in life. Driven by malaise and lack of agency, as well as a longing for the spontaneity of adolescence, they decide to check how a theory invented by a certain philosopher may work in practice; said theory claims that people are born with too low blood alcohol levels. Alcohol is the catalyst for the protagonists – it allows them to free themselves from troubling emotions, forget how disillusioned they are with their current life and help them break down barriers. As many know, once you start drinking, with each glass it gets harder and harder to stop – just like in this Oscar-winning movie from Denmark. It shows the ugly face of a boisterous lifestyle, as alcohol takes over more and more of the humanity. Nevertheless, it's difficult to say for certain that Druk completely condemns drinking as such.
One final point: although the camera focuses primarily on Mads Mikkelsen, the film is a beautiful story about friendship. A friendship that is uncertain, full of understatements, but also the strongest in times crisis – when it is needed the most. Druk is definitely a must-see from 2021. This film – like strong alcohol – gets to the viewer's head, and the emotions it evokes last longer than a hangover.
DISASTROUS EFFECT OF ALCOHOL AND OTHER DRUGS
If you are looking for similar films that tell a story through the lens of alcohol or substances of a similar effect, Karol has prepared a list of movies that will get to your brain .