Call of Duty: Ghosts Expansions & DLCs
Game Expansions and DLCs available for Call of Duty: Ghosts Video Game.
Game Expansions for Call of Duty: Ghosts

Call of Duty: Ghosts - Nemesis
Action 06 August 2014
The fourth and final DLC expansion for Call of Duty: Ghosts. In accordance with tradition, it brings, above all, another 4 maps for online play, along with new field tasks and unique rewards for completing them. Among the maps we can find Goldrush located in an abandoned gold mine, set in an ice-cold Canadian military base Subzero and Dynasty taking place on the streets of a small Chinese town. The set is completed by the Showtime arena, a revamped version of the small Shipment map from Call of Duty 4: Modern Warfare.

Call of Duty: Ghosts - Invasion
Action 03 June 2014
Third of the DLC for Call of Duty: Ghosts, created by Infinity Ward studio. Together with it we get, above all, another 4 maps for multiplayer competition. Departed takes players to a Mexican town where celebrations of the Day of the Dead are taking place. The action of Pharaoh takes place on an abandoned archaeological site in Egypt. Mutiny takes us on a journey to a mysterious Caribbean island once used as a hiding place by pirates. Favela is a refreshed version of the Brazilian slums we visited in the main campaign of Modern Warfare 2.

Call of Duty: Ghosts - Devastation
Action 03 April 2014
The second of the DLC expansions for Call of Duty: Ghosts, developed by Infinity Ward studio team in 2013. Along with it we traditionally get four new maps for multiplayer. The action takes place in a Mayan temple on top of a mountain (Ruins map), on board of a container ship (Collision) and on a huge mining platform (Behemoth). The fourth map, Unearthed, is a refreshed version of Dome, known from Modern Warfare 3. The authors didn't forget about a new type of weapon, and this time it's a tactical Ripper rifle.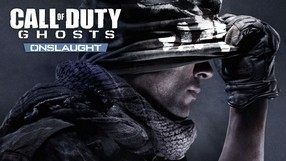 Call of Duty: Ghosts - Onslaught
Action 28 January 2014
The first of Infinity Ward's DLC for Call of Duty: Ghosts. It introduces four brand new, diverse multiplayer maps - Fog, inspired by classic horror films, set on the sunny Bayview coast of California, and Containment, a small Mexican village. The last one is Ignition, which is a slightly remodeled version of the classic Scrapyard map from Modern Warfare 2. In keeping with tradition, we also get a brand new weapon at our disposal called the Maverick, which can be used both as an assault rifle and a sniper rifle.
DLCs for Call of Duty: Ghosts
PCX360PS3WiiUPS4XONE
Astronaut Special Character
DLC 19 June 2014
PCX360PS3WiiUPS4XONE
Bling Pack
DLC 19 June 2014
PCX360PS3WiiUPS4XONE
Legend Pack - Soap
DLC 22 May 2014
PCX360PS3WiiUPS4XONE
Squad Pack - Extinction
DLC 22 May 2014
PCX360PS3WiiUPS4XONE
Snoop Dogg VO Pack
DLC 22 April 2014
PCX360PS3WiiUPS4XONE
1987 Pack
DLC 22 April 2014
PCX360PS3WiiUPS4XONE
Eyeballs Pack
DLC 22 April 2014
PCX360PS3WiiUPS4XONE
Heartlands Pack
DLC 22 April 2014
PCX360PS3WiiUPS4XONE
Drill Instructor VO Pack
DLC 22 April 2014
PCX360PS3WiiUPS4XONE
Legend Pack - Makarov
DLC 03 April 2014
PCX360PS3WiiUPS4XONE
Space Cats Personalization Pack
DLC 26 March 2014
PCX360PS3WiiUPS4XONE
Ducky Personalization Pack
DLC 26 March 2014
PCX360PS3WiiUPS4XONE
Elias
DLC 26 March 2014
PCX360PS3WiiUPS4XONE
Extra Slots Pack
DLC 26 March 2014
PCX360PS3WiiUPS4XONE
Captain Price Legend Pack
DLC 26 March 2014
PCX360PS3WiiUPS4XONE
Hesh
DLC 26 March 2014
PCX360PS3WiiUPS4XONE
Inferno Personalization Pack
DLC 26 March 2014
PCX360PS3WiiUPS4XONE
Keegan
DLC 26 March 2014
PCX360PS3WiiUPS4XONE
Circuit Personalization Pack
DLC 26 March 2014
PCX360PS3WiiUPS4XONE
Merrick
DLC 26 March 2014
PCX360PS3WiiUPS4XONE
Christmas Camo
DLC 18 December 2013
PCX360PS3WiiUPS4XONE
The Wolf
DLC 12 December 2013