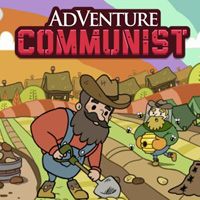 AdVenture Communist is a simple clicker game. It was developed by independent studio Hyper Hippo, the creators of similar title AdVenture Capitalist. Among the platforms on which the game was released there is PC, iOS and AND. The game was developed by using a free-to-play distribution model with microtransactions.
Mechanics
The player starts his adventure in AdVenture Communist for PC, iOS and AND as a farmer with a small field where he grows potatoes – the pillar of the economy of every communist country. By working hard (pressing the button responsible for digging potatoes) the player gains resources that can be spent on buying more ground (that guarantee increased production) and hiring employees, recruited among the "comrades" – people who think like true communists. After some time the player expands his business to mining, weapon production and drug production.
All of that in order to earn money and spend it on various upgrades developed by scientists. The upgrades increase player's possibilities, enabling him to help in building a communist paradise. The game features special missions and medals that are earned for reaching certain production levels.
Technical aspects
Similarly to the above mentioned AdVenture Capitalist, the PC, iOS and AND version of AdVenture Communist features simple, two-dimensional graphics that take advantage of a cartoonish style.