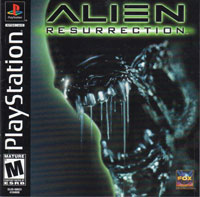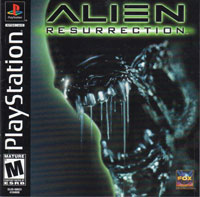 Alien Resurrection
PS1
A shooter with elements of horror, based on the popular Alien: Awakening from 1997. The production depicts the fate of cloned Ellen Ripley and a group of mercenaries trying to survive the clash with bloodthirsty aliens.
Alien Resurrection

Release Date PS1

10October2000
developer: Argonaut Games publisher: Fox Interactive

game language: English
Alien Resurrection is a 2000 FPS with horror elements. The game was based on the Alien: Resurrection movie from 1997. The title was developed by Argonaut Games studio, the devs of i>FX Fighter and Croc series.
Story
The events presented in Alien Resurrection are a loose adaptation of the movie original. The game takes place many years after Alien 3 and presents the fate of Ellen Ripley clone and a group of mercenaries trying to escape from the bloodthirsty xenomorphs of the spacecraft USM Auriga.
Mechanics
Alien Resurrection from Argonaut Games is a representative of the first-person shooter genre. The title was one of the first to introduce to the genre the concept of control based on two analog sticks, of which the left one was responsible for the movement of the character, and the right one for looking around the area.
The action takes place on ten levels, during which the players take control of four different characters - Ellen Ripley, Callem, DiStephano, and Christie. Each of the protagonists has different equipment, some also have access to unique types of weaponry. The game consists mainly of fighting enemies, among which, in addition to iconic adult xenomorphs, there are face-huggers, soldiers and bosses such as the alien queen.
Other
The game was originally developed as a survival horror in the vein of Resident Evil and its release date was to coincide with the cinematic debut of Alien: Resurrection. At some point, it was decided to restart the development and change the genre into a shooter, as a result of which the final game appeared on the market three years after the movie.
Game mode: single player
User score: 5,2 / 10 based on 27 votes.
Age restrictions Alien Resurrection: 16+