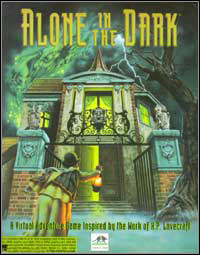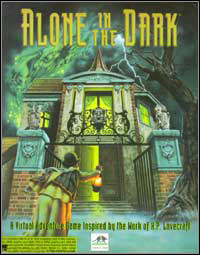 Alone in the Dark (1992)
PC
The first part of the adventures of fearless detective Edward Camby, based on the motifs of horror master H.P. Lovecraft. As we investigate the death of Jeremy Hartwood, we come to the suspicious Vuktorian estate of Decreto.
Adventure | TPP | horror | Cthulhu | action adventure
Alone in the Dark (1992)

Release Date PC

14November1992
developer: I-Motion publisher: Atari / Infogrames

game language: English
A Chilling 3-D Foray Into The Macabre Mansion of Derceto
A suspicious suicide. A chilling curse. A malevolent power. And a wicked dark secret. Thisis Derceto, legendary Louisiana mansion -- where, against you better judgement, you're drawn into a world of shadows to explore the darker side of Jeremy Hartwood's imagination.
Despite a paralyzing sense of personal danger, your quest for truth drives you to investigate the old house. But, you didn't know that by entering Derceto, you'd be plunged into the daily nightmare that was Jeremy Hartwood's life. You weren't prepared for the torturous howls that resound from deep within its halls. You did't foresee the shadowy corridors that seemingly have no end. You couldn't anticipate the brooding, gloom-filled rooms, the pervasive weight of dread, the heavy sense of evil that gills the atmosphere and the very house itself.
Had you known, you might have refused your task. But alas, you accepted, and now you must make your way through this spine-tingling adventure alone ... and in the dark.
Last updated on 21 November 2014
Game mode: single player
User score: 8 / 10 based on 372 votes.
Age restrictions Alone in the Dark (1992): 12+
Alone in the Dark (1992) System requirements
Recommended:
IBM PC AT 386
2MB RAM
sound card