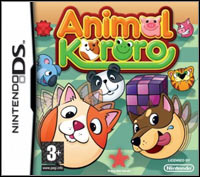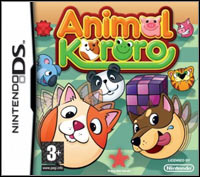 Animal Kororo
NDS
Simple puzzle game in which we combine the same species of animals in pairs to send them to the kingdom of Kororo. The creators of the production prepared a lot of stages and game modes, as well as three difficulty levels.
Puzzle | Nintendo exclusive titles
Animal Kororo

Release Date NDS

12February2010
developer: Rising Star Games publisher: Rising Star Games Official website

game language: English
The residents of Kororo Kingdom have gone missing! From pandas to puppies to pigs, these adorable round critters must be grouped in matching twos and sent home where they belong. Roll them around obstacles and reconnect them with their partners to ensure their safe return in the newest puzzle addiction to hit the DS!
Features
Use your Stylus to roll adorable animals around obstacles and into identical twos to eliminate them from the game board. Clear the board within the time limit to progress!
Multiple difficulty modes with varying levels in each: Easy (10 levels), Normal (20 levels in each mode) and Hard (!!)
Attack Mode: more appear and create additional obstacles while helping you eliminate enough pairs to proceed to the next level in fast paced, frantic action.
Challenge Mode: send all the animals home before time runs out as more obstacles appear in progressively difficult levels.
Battle Mode: Two player single and multi-card puzzle face offs challenge you to finish the puzzle before a friend does.
Kororo house Mode: design a home for your kororo by shopping for furniture, goods and the perfect room theme using currency earned in Challenge and Attack Modes. Coordinate your room to your liking and make your animal kororo as cozy as possible!
Game mode: single / multiplayer
Expectations: 0 / 10 based on 1 votes.
PEGI rating Animal Kororo