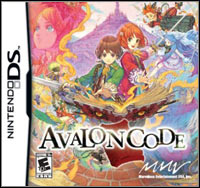 Avalon Code
NDS
Original action game with RPG elements, in which we can influence the environment by changing the content of the magical book. In addition to dynamic combat, the title also offers the opportunity to find the perfect partner.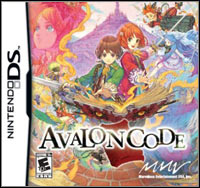 game language: English
game release date for NDS:
01November2008
Avalon Code is a game combining action with RPG elements. Matrix Software is responsible for the creation of this work. The company worked early on, for example, converting several parts of the Final Fantasy series into a DS console.
In the game we play the boy Yumila or a girl named Tia. Two young people have come to live in difficult times - the world known to them will soon be destroyed, as the heroes know from prophetic dreams. After waking up from one of these dreams, the character we lead finds at his side a book that can save millions of lives. Our task is therefore to explore the world and write down all the noteworthy elements in the book. While playing, we must also help 4 ghosts (fire, water, lightning and wind).
This book, called Book of Prophecy, also allows you to influence the environment and is a key element of the mechanics of gameplay. Changing its content, we influence the fate of the fight, adding a weak point to a strong opponent or changing the properties of our own weapon. The power of the book can be used not only to defeat enemies and save the world, but also to do less good deeds, e.g. to heal a sick child. The book, map and statistics of our hero are displayed all the time on one of the screens.
In addition to the possibility of using the book, in the game we also take part in many more standard fights. The matches take place in real time - we select different attacks by pressing individual buttons. Special attacks and correctly executed sequences of blows allow you to defeat the most dangerous enemies. However, it is not the struggle itself that people live - in the fantastic world we can also look for a dream partner, depending on our tastes.
To create the game we used a very efficient graphic engine, so it looks very good. It is also worth mentioning the very efficient work of the camera, facilitating the movement of our character in a three-dimensional environment.
Please let us know if you have any comments or suggestions regarding this description.
Similar games:
PEGI Rating