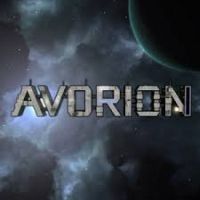 Game mode: single / multiplayer
Multiplayer mode: local network / Internet

game language: English
game release date for PC:
09March2020
Avorion is a sandbox space simulator in the style of the Elite series with a cooperation mode. The game was developed by Boxelware, an independent German studio, but initially it was a project by a student from the University of Frederic and Alexander in Erlangen and Nuremberg. Over nearly nine years, the team has grown significantly and benefited from the support of the Steam Greenlight program and Kickstarter campaign to release Avorion in 2017 as part of early access.
Plot
Avorion takes us into a distant future where many parties have been fighting for influence in space for centuries. A long time ago, a great cataclysm almost torn the galaxy to shreds. As a result, the centre of the galaxy became inaccessible to ships, and smaller anomalies made it impossible to travel on many of the routes. At the same time, a mysterious race of Xsotans appeared, as the only one able to travel through potholes in hyperspace. Rumour has it that its representatives build their ships from the avorion, a mysterious metal that appeared with their arrival. But no one was able to reach them in the middle of the galaxy or make contact with them. The hero of the game hopes to change this, but first he must gain the resources and influence needed to venture into a centre of the galaxy that has not been explored for centuries.
Mechanics
Avorion gameplay is based on a scheme known from the games of the Elite: Dangerous and X series. The main task is to get to the center of the galaxy, but there is a long way to go. We start the game with a single mining drone, with which we comb through nearby planets and asteroids in search of resources. These will allow us to create the first ship consisting of modules that can be scaled and combined in almost any way. These blocks require specific raw materials, forcing us to travel to further and more dangerous regions of the galaxy, and thus to invest in new ships.
The same freedom the game gives us in terms of career choice. We can bet on establishing trade relations to create our own corporation, trying to maintain peaceful relations with other inhabitants of the galaxy. However, nothing stands in the way of sending our ships on plundering expeditions, raiding convoys with goods, or dealing with smuggling. We can also focus on space exploration, where there is no shortage of various, often valuable secrets and information about events from centuries ago. All of this in order to get the funds to travel to the center of the galaxy and learn the truth about the great disaster.
As the game progresses, we start to meet parties with whom we can enter into various relationships. It's enough to enter a faction-controlled zone with an armed squadron to make its members reluctant to join us. Each group has its own characteristics: we find both peaceful intellectuals, profit-oriented corporations and empires that want to conquer the whole galaxy, and everything in between. The system is very complex, and sooner or later we may choose one of the sides. From time to time we also come across groups of pirates who are not willing to negotiate. We face these and other enemies in spectacular battles, and in extreme cases we take part in great clashes with many factions.
As the game progresses, we gain access to further improvements and new weapons, including different types of cannons, lasers, etc. Each of these elements provides us with specific bonuses that are useful in the fight against various threats lurking in the galaxy, including dangerous bosses. Fortunately, we don't have to fight alone. The game allows us to hire captains led by artificial intelligence to lead our ships. Fleet, crew and hangar management allows us to automate routine activities, helping us to focus on new activities.
Game modes
Avorion allows you to play alone, which is the default game mode. However, in addition to this, the title allows you to play together with your friends in a local or network multiplayer mode. So we can play with the ship together: one player can be responsible for controlling it and another for its armament. If we prefer to compete, the creators have planned the opportunity to fight great PvP battles. There is also a creative mode, where we can freely tinker with ships and stations.
Technical issues:
Avorion uses three-dimensional graphics, but at a considerable distance from the camera, the view is switched to a flat map of the galaxy. The main attraction is ship models. Battles are accompanied by spectacular visual effects, and in case of a successful attack we are rewarded with a view of broken modules at the point of hitting the unit.
The game includes Steam Workshop support, allowing users to share their ship, plot and station designs.
Similar games:
Age Rating
age requirements: 12+
System requirements
Minimum:
Intel Core i5 3.0 GHz
4 GB RAM
graphic card 1 GB GeForce GTX 550 or better
1 GB HDD
Windows 7 64-bit
Recommended:
Intel Core i7 3.3 GHz
6 GB RAM
graphic card 2 GB GeForce GTX 1050 / Radeon RX 460 or better
3 GB HDD
Windows 7/8/10 64-bit