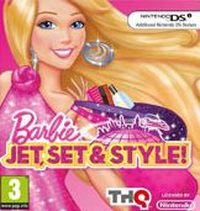 Barbie: Jet, Set & Style
In Barbie: Jet, Set & Style, players will embody the personal Barbie stylist and then travel with her around the world. The task of the players is to prepare hairstyles, make-up, manicure and outfit for the clients who apply to the program.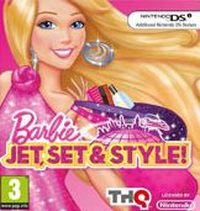 You are a Barbie™ fashionista in demand!
Jet the Globe with Barbie™ as her top fashionista in this ultra-glamorous video game, Barbie® Jet, Set & Style!™. There are REAL styling activities for you to do as you travel with Barbie™ in the jet salon to 10 exotic cities styling HAIR-tastic hair and performing fabulous make overs on clients from around the world. The game is available this September on Wii™ and Nintendo DS™ and DSi™.
Features:
Style totally-new HAIRtastic hairstyles such as cutting, highlighting, extensions, curling and more for each and every one of your clients.
Perform make up makeovers, design and manicure nails and style outfits choosing from trendy to sporty to ultra-glamorous fashions.
Earn fashionista points throughout your world-wide styling assignments in preparation to style Barbie™ herself for her Global Glam Fashion Show escorted by non-other than Ken™.
Using the Nintendo DSi™ camera, design a T-shirt for your clients showing off your fashionista skills.
PEGI Rating