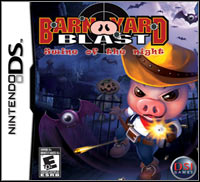 Barnyard Blast
NDS
Funny two-dimensional platformer. The player takes on the role of a brave pig, taking on the forces of darkness and defeating six different worlds (including a cemetery and a ghostly castle).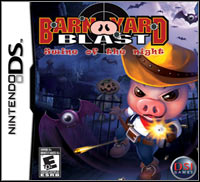 game language: English
game release date for NDS:
13February2008
What is Barnyard Blast?
Barnyard Blast is an upcoming 2D action shooting game for the Nintendo DS. It is a parodic tribute to famous old-school horror titles. In Barnyard Blast, you control Robert Belmart, the Swine of the Night. Through 6 levels, you kill zombies, exterminate monsters, slash ghouls, and more.
When will it be released?
End of 2007.
Who publishes Barnyard Blast?
Barnyard Blast will be published in Europe by Bigben Interactive.
It will be published in America by DSI Games.
Who develops Barnyard Blast?
Barnyard Blast is developed by Sanuk Software, a game development studio based in Bangkok, Thailand.
What is the storyline?
One Halloween night, young piglet Cliffy Belmart is caught tee-peeing an ancient castle ruled by darkness, and swept inside by horrendous creatures. Instantly aware of the peril, his father Robert Belmart equips with a fully loaded gun and rushes into 6 different worlds with tough monsters and bosses. Is Robert a bad enough dude to rescue his son?
What are the game features?
Vintage shooting and platform gameplay with simple, intuitive cotnrols.
Hilarious characters and scenes (well, hopefully).
A long journey into 6 stages: a night walk in the graveyard, the ancient castle ruled by darkness, the volcano BBQ, the old creepy wooden jail, the forest in the way, and the castle of intolerable pain.
Challenging enemies and bosses.
A collection of weapons, items and upgrades.
PEGI Rating