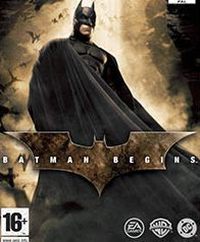 Step into the shadows of Gotham's perilous criminal underworld as DC Comics' legendary Dark Knight in the Batman Begins™ video game. Slated for release day and date with the Warner Bros. Pictures film, Batman Begins challenges players to use fear as their ultimate weapon.
The game explores the origins of the Batman legend and the Dark Knight's emergence as a force for good in Gotham. Gamers will play as both Bruce Wayne and his alter-ego, Batman, hunting evil-doers from the shadows, using strength, intellect and an array of high tech gadgets to fight the sinister forces that threaten the city, including classic villains the Scarecrow, Ra's Al Ghul and Carmine Falcone.
Turning traditional stealth-based gameplay on its ear - by allowing gamers to play the hunter, rather than the hunted - Batman Begins delivers the Batman universe as never before. Stalking criminals from the shadows, gamers will discover new ways to paralyze thugs with fear before engaging in hand-to-hand combat, or interrogating them.
From the halls of Arkham Asylum and the alleys of Gotham City to an ancient monastery high in the Himalayas, Batman Begins the video game delivers a thrilling interactive companion to Christopher Nolan's reinvention of the Dark Knight in Batman Begins.
Fear is Your Weapon: Stalk and terrorize enemies, or strike from above to pick off prey one by one. Use the environment to turn enemies against each other and defeat them before ever joining the fight. Take out an enemy with an attack from above and watch the fear level of his fellow thugs increase.
Interactive Environments: Gamers must use their environments, from scaling buildings and gliding between rooftops, to triggering explosions and unleashing the insane inmates of Arkham Asylum against their enemies, to bring justice to Gotham.
Cinematic Combat: Mixed martial arts combat and devastating finishing moves developed exclusively for Batman Begins are faithfully recreated in the game with the assistance of the film's stunt coordinator.
The Bat Utility Belt: Delve deep into the ultimate arsenal of high-tech crime fighting gadgets, including the Batgrapple, Batarang, Optic Cables and Lock Picks.
The Batmobile: Tear up the streets and rooftops of Gotham in the Batmobile. Fight crime in multiple levels of lightning-fast vehicular combat.
Experience Gotham City: Batman Begins brings gamers into the Batman universe, allowing them to experience the origins of the Dark Knight as both Bruce Wayne and his alter-ego Batman - from the alleys of Gotham City and depths of the Batcave to the twisted halls of Arkham Asylum.
Epic Storytelling: Featuring a game script by JT Petty, the acclaimed writer of Tom Clancy's Splinter Cell &trade , Batman Begins allows players to delve even deeper into the universe masterfully depicted in Christopher Nolan's film.
PEGI Rating
System requirements
Sony PlayStation 2
Uses: memory card
Nintendo GameCube
Uses: memory card