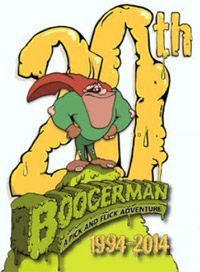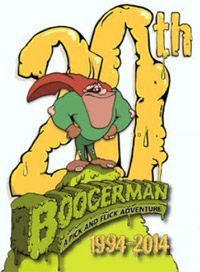 Boogerman 20th Anniversary: The Video Game
Boogerman 20th Anniversary is a remake of a platformer created by Interplay in 1994. The reedition refreshed the two-dimensional graphic design, preserving the plot and the general model of the game from the original.
Arcade | platform | 2D | indie games | co-op
tís a dark and stormy night at Professor Stinkbaumís lab where a machine has been built to save the world by trans-existing all pollution to a far-away location in time and space dubbed Dimension X-Crement. Eccentric millionaire Snotty Ragsdale has taken a job at the lab to investigate its safety and to find out exactly where the pollution is going. He has a bad feeling about Professor Stinkbaumís latest contraption. This night his suspicions will come true...
You are Snotty Ragsdale (aka Boogerman), an eccentric millionaire posing as a mild mannered Janitor working for the globally renowned scientist, Professor Stinkbaum. A catastrophic event will send you into Dimension X-Crement where you will have to use your mega-powered bodily functions to takedown the dreaded Booger Meister and his army of Nose Goblins. You will pick, flick, run, jump, fly, burp, fart, and swim your way through 6 disgusting worlds. Throughout the game, you will be aided by professor Stinkbaum with brand new gadgets such as the Snot Whip, and the Snot-so-Silent-Butt-Deadly Fart Copter!
Boogerman 20th Anniversary is a brand new side-scrolling action platform game. The game is based on the original in terms of setting, story, and characters. Developer maintains the tone of the 16-bit classic while at the same time bringing a new game structure, new mechanics, new levels, and new gorgeous HD animation, art, and presentation.
The game features an entirely new musical score created by composer Grant Kirkhope of Banjo Kazooie, Perfect Dark, and Donkey Kong 64 fame.
Game mode: single / multiplayer Multiplayer mode: Internet Player counter: 1-2
Age restrictions Boogerman 20th Anniversary: The Video Game: Good for all ages.