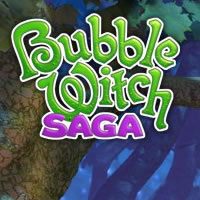 Bubble Witch Saga
Bust-a-move browser game with witches in the main role. We control colorful bubbles floating from a huge boiler and try to hit them in another of the same color, which causes their removal from the board.
Logic | casual | bust-a-move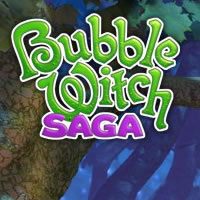 Bubble Witch Saga, available on AND, iOS and WWW, is another representative of bust-a-move games created by King.com. The creators introduced some variety to the classic mechanics and placed witches in their production using slightly dark stylistics.
Mechanics
The basic task of the player is to clear the board of differently colored bubbles. To do this, it is necessary to shoot the bubbles at the bottom of the screen in such a way that they hit other bubbles of the same color. This, in turn, will remove them from the board. The stage ends when we manage to get rid of all of them. The rows of bubbles slowly move down, so the player is under pressure and has to make moves as quickly as possible.
To diversify the gameplay, the developers introduced kettles of different sizes placed at the bottom. The detached bubbles fall into them, providing an additional score bonus depending on the size and position of the container. In addition, spiders gradually appear on the screen as additional obstacles to the falling bubbles and, as a result, change their flight path.
The campaign is presented in the form of a map of the land with individual stages located on it. For each victory, we receive a certain number of stars depending on the number of points achieved. They are necessary to unlock more boards. If we fail, we lose one of the five points of energy, which regenerate over time. We can also renew them with microtransactions. The situation is similar when we want to buy additional power-ups to make it easier to play.
Technical aspects
Bubble Witch Saga has an eye-catching graphics design. The background visible during the game depends on the current location on the map.
Similar games:
Age Rating
age requirements: everyone