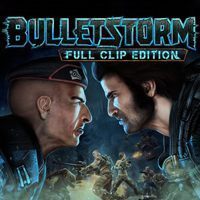 Game mode: single / multiplayer
Multiplayer mode: Internet
Bulletstorm: Full Clip Edition for PC, PS4 and XONE is a remastered version of the first-person shooter that People Can Fly initially released in 2011 for Xbox 360, PlayStation 3 and PC. The title was also developed by the same Polish studio. In 2015, it became independent of Epic Games, its former owner, and retained the rights for the franchise. The production boasts, first and foremost, better graphics, while the gameplay remained practically unchanged.
Plot
The action of Bulletstorm: Full Clip Edition takes place in the 26th century. One of the biggest superpowers and in the galaxy is the Planet Confederation led by the charismatic general Sarrano. His will is executed by an elite unit called Dead Echo. The player assumes the role of Grayson Hunt, a former operative of the aforementioned group, currently a pirate and the public enemy number one. We spend most of the time on the planet of Stygia which used to be a luxurious entertainment center. Its governors left its surface many years ago, giving it to mutated plants. The humans who survived divided into many wild tribes.
Mechanics
Bulletstorm: Full Clip Edition for PC, PS4 and XONE is a dynamic first-person shooter enriched with a spectacular hand-to-hand combat system. Grayson can kick his enemies with his military boot and perform long slide tackles. Another important addition is the energetic leash that allows us to catch and pull an opponent. Apart from the above, we also get a rich arsenal of rifles and shotguns. The standard guns are complemented by more sophisticated toys such as a cannon that shoots explosive globes that can be kicked like a ball.
In the game, we receive points for killing hostiles in a spectacular fashion — such kills are called "skillshots". For example, regular gives us a bonus of +10, while a headshot makes it +25. If we add a creative use of the leash and other abilities of the protagonist, the final score will be even better. The points we earn can be spent to modernize weapons. Thanks to it, our rifle can, for example, shoot a hundred bullets simultaneous and rip all meat off of most enemies bones, leaving only a steaming skeleton. An enhanced whip can, in turn, hit the ground with such a force that it sends our enemies flying up in the air, letting us take them out one by one while they are helplessly soaring.
Game modes
Fragments of the single player campaign can be completed in the additional Echo mode in which we race against time and try to score as many points as possible. Another important addition to the solo gameplay is the introduction of team matches. In Anarchy, a group of players fights subsequent waves of enemies. However, it isn't about survival but killing our opponents in a particularly spectacular way (so scoring an adequate amount of points with skillshots).
Similar games:
PEGI Rating
System requirements
PC / Windows
Recommended: Intel Core i5-760 2.8 GHz/AMD Athlon II X4 645 3.1 GHz, 8 GB RAM, graphic card 2 GB GeForce GTX 750/Radeon HD 7770 or better, 15 GB HDD, Windows 7/8.1/10 64-bit
Minimum: AMD Athlon A8-3850 2.9 GHz, 6 GB RAM, graphic card 2 GB GeForce GTX 750/Radeon HD 6850 or better, 15 GB HDD, Windows 7/8.1/10 64-bit